On the 31st Aug 15, an event was to happen of such earth-shattering proportions, that it was to shatter the earth to its very proportions. Smashie & Nicey: The End of an Era was repeated on BBC Two, for the first time since 2010. And… well, an awful lot has happened since 2010. Were we about to get a butchered-to-hell edit?
Perhaps surprisingly, no. The edits were minimal – in fact, comparing the two versions side-by-side, I only spotted two. Let's take a look, shall we?
Radio Fab Launch Photo (15:57)
During Smashie and Nicey's reminisce about the original Radio Fab launch photo, the revised repeat is cropped to remove the right section of the picture. A manipulated version of the original Radio 1 launch photo, presumably this was edited to remove Chris Denning, third from right in the middle row.
Whilst there have been fresh charges brought against Denning since 2010, his legal history was decidedly, erm, murky well before then, so this feels like a definite change in policy.
Top of the Pops (20:11)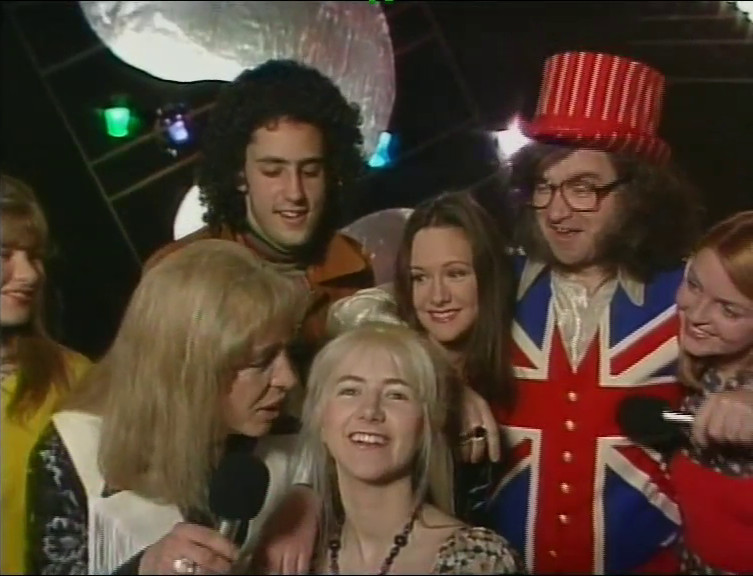 A single line cut from the end of one of the Top of the Pops sketches:
Top of the Pops title sequence.

SMASHIE: Hi funsters! And a truly glamorous welcome to Top of the Pops. Nicey!
NICEY: I've just eaten a whole packet of Toffos!
SMASHIE: He's bonkers, isn't he? [To young girl] How old are you, m'darling?
Speaking purely personally, it seems rather a shame to punish the show simply for being remarkably prescient. And this second edit seems especially weird when you take into account the following joke from the brand new programme on just previously, An Evening with Harry Enfield and Paul Whitehouse:
NICEY: As someone who's recently been acquitted of all but one of the charges against him, could we see some of those two nice young teenage boys you used to do?
But as usual, the BBC couldn't really win on this one. And we should definitely be grateful that there were only two edits, rather than the whole show being cut to ribbons. Arguably, Smashie's plastic-covered bedroom could have been potentially up for the chop, being a direct reference to Savile.
For more End of an Era edit fun, check out my comparison of the broadcast and VHS versions of the show. If all you've seen is the broadcast version, then the show has plenty of surprises left on offer…