In a rare guest article here on Dirty Feed, script editor and writer Andrew Ellard takes issue with the poor quality of debate around the subject of studio audience sitcom…
This little piece in The Telegraph caused a minor kerfuffle just before Christmas. Catherine Gee gave her (negative) opinion on Miranda and Miranda's fans, lent voice by Twitter and the ever-present 'comment' option, responded angrily.
While the pro/con article itself wasn't really balanced by the inclusion of Chris Harvey's rebuttal – which still described the show as having "terrible catchphrases", "caricatures that make Little Britain look subtle" and "slapstick so obvious it wouldn't confuse a small child" – the truth is that the 'con' half is what drew most ire.
I tweet about TV a lot. A bit of 140-character critique and analysis – why things work for me, or don't. I like Miranda. I've liked its writer/star for a long time, and I like the show. I think it's a flawed but deeply funny sitcom. I wouldn't miss it.
However I've stopped discussing the ups and downs of this one, specific show due to the quick-tempered overprotectiveness of its fans. I fear pointing out that, say, Miranda's supporting characters aren't strong enough to hold down even a single scene without the leading lady present – because what follows are angry tweets of the "it's funny, that's all that matters, now stop being mean" variety.
But it's in my nature to feel that such analysis is useful. Far from being Miranda security, protecting it from harsh words in case it shatters, fans should (and generally do) know that shows get better through robust and intelligent analysis and critique. (It's also, obviously, how they're made in the first place.)
And so I find myself in the curious position of being out of sorts both with Miranda fans and a fervent critic of the show. The flak Catherine Gee received online was often as ill-considered as the analysis she provided. While this internet of ours is often in the business of providing a platform for the uninformed, when you get paid to talk about something, you need to – should be required to – know your stuff.
So here, in bold, are the Gee comments that pressed my irk button… along with my rebuttage:
"Miranda is a flop, and here's six reasons why – by Catherine Gee"
As a headline this may well be the sub-editor's wording, but whoever wrote it doesn't know what the word 'flop' means. And since their job includes using the word, that's a problem.
A flop film is a financial failure, with fewer tickets sold than justify the initial expenditure. For a BBC TV series to be regarded as a flop it needs to have difficulty attracting an audience. Viewing figures would be poor in comparison to other shows in the time-slot, public demand would be low and, as the series went on, those figures would be diminishing.
Ultimately, 'flop' or 'hit' is a tangible achievement. Either extreme can be factually assessed by looking at hard data. Wanna take a guess which sitcom has been having a increasingly great time in the ratings in its unusual 8.30pm BBC Two slot? (Points deducted if you said The Persuasionists.)
"One: Canned laughter."
Three words in and it's regurgitate-a-myth time. Name for me, please, five sitcoms in the last 20 years that have regularly used 'canned laughter'.
What's that? Oh, no, no, no. Canned laughter isn't simply a laughter track. Studio audiences come and watch sitcoms, laugh out loud and that laughter is recorded. That's not canned. That's free-range laughter you're getting.
Canned laughter refers to a pre-recorded bank of laughs used on certain shows. Miranda, unsurprisingly, doesn't use it. It's massively rare in situation comedy these days. For a very, very long time it has been felt that people can spot a fake track and tell the difference.
There's a Douglas Adams joke about the universe being unpopulated:
It is known that there are an infinite number of worlds, simply because there is an infinite amount of space for them to be in. However, not every one of them is inhabited. Therefore, there must be a finite number of inhabited worlds. Any finite number divided by infinity is as near to nothing as makes no odds, so the average population of all the planets in the Universe can be said to be zero. From this it follows that the population of the whole Universe is also zero, and that any people you may meet from time to time are merely the products of a deranged imagination.
There are a large number of modern situation comedies with laughter tracks. The number of modern situation comedies with canned laughter tracks is so minute, such a small percentage, that they might as well not exist at all, and any shows you claim use it…well, y'know.
If by 'canned laughter' Gee means 'studio audience' then…well, you simply cannot do that. They mean totally different things and using them interchangeably misleads the reader, (deliberately) creating an inaccurately negative impression. If your argument is solid do you need to resort to such a cheap technique?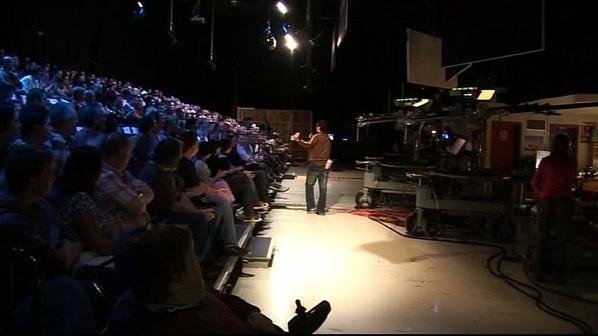 "Once upon a time, audience laughter was used to signal where the jokes were, when producers thought that viewers wouldn't be able to figure it out for themselves."
This is not what a laugh track is used for. It never has been. Are we really happy ascribing this kind of crass motivation to producing talents like John Lloyd, Paul Jackson and Geoffrey Perkins? They really thought so little of their viewers, and the scripts they were filming, that they added the aural equivalent of 'laugh now' captions?
I've heard show makers say that a live audience tells the makers to be funny. I like that. It guides performance, just as in good theatre, and lets you get a feel for what's working. But let's skip past even this – entirely reasonable – point because, I'm sure, the counter-argument would be the fabulously disingenuous "Why not just hire people who know how to be funny without the crutch of an audience?"
Here's the thing: Saying a laugh track is there to tell you a joke is funny is like saying background music is there to tell you a scene is sad. Film and TV music, done right, conveys emotion and context – but it's with you, alongside you, it's not 'signalling' you. It's not intended to point out so much as to underscore.
Nobody, least of all a musician by the name of Thomas Wanker*, needs to tell me that Buffy dying to save her sister is huge, dramatic and upsetting. His music wasn't a signal, it was a relief. The show was with me. We were in it together.
Similarly, a laughter track is inclusive. It's there to engage, to make the viewer part of a communal experience. Does seeing a comedy in the cinema require a large audience? No. Does a stand-up's material get weaker in an unpopulated venue? Not intrinsically. But go see either in an auditorium of three people – you laugh less. You just do.
You enjoyed Friends and Men Behaving Badly right along with the rest of us. If you think you've since grown beyond audience sitcom, I think you're nuts, but go ahead. Quit watching Big Bang Theory and The IT Crowd and feel for-some-reason superior for doing so. But don't create a fake history of television, and fake motivations for its makers, to justify it.
"Now that comedies such as The Office and Peep Show have proved said viewers more than capable, it seems strange to still use it [a laugh track]."
The idea that The Office and Peep Show somehow reveal us 'evolving' past laugh-track sitcoms is a fundamental misunderstanding of the genre and its tools. The implication that I'm Alan Partridge, Father Ted, Seinfeld, Coupling and a thousand others were patronising their audiences at a time when they should have evolved past such prehistoric production techniques is… well, it's not a clever thing to say.
Single-camera, no-laugh-track comedies existed long before the most recent iteration. They are not a modern discovery. They're not the final proof we were all waiting for that we can chuck away the crutches of laughter and dance unaccompanied. And they are not the difference between 'clever' and 'stupid'.
Those shows would have been better – less patronising? – if the audience had been taken away? You think a show puts its production schedule out – incurring the logistical costs of bringing 300 people to a studio – in order to provide instructions for the viewer? Are you kidding me?
"The role she's written for herself is basically the socially inept sibling you're embarrassed to introduce to people. Why voluntarily watch them at their most excruciating? Every week?"
We've stumbled on the true unspoken rule of comedy here: competent people are funny. That's why you see so many comedies about people who are great at their jobs, are socially winning and romantically flawless. It's that complete lack of fault that leads to really knockout –
Well no, obviously not. The Office is massively predicated on witnessing Brent at his most excruciating. His role is that of the socially inept boss you're embarrassed to introduce to people. Why voluntarily watch him at his most excruciating? Every week?
Do I really have to list the number of great sitcoms that thrive on their characters failings and embarrassments? Or can I just assume at this point that we all – bar one – understand that this includes 'all of them' and move on?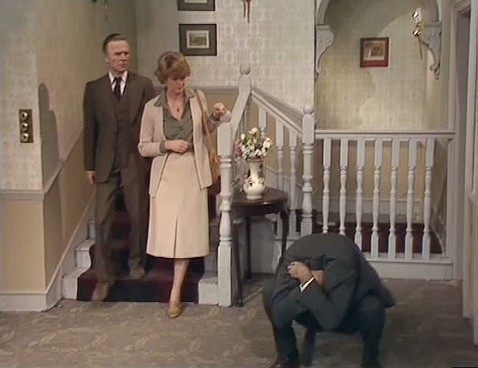 "It considers itself old-fashioned but seems to have only retained the worst aspects of the sitcoms of yesteryear – the cheap sets being just one. Vintage comedies such as Fawlty Towers and The Good Life may have been built out of reinforced cardboard, but at least they were backed up by likable (sic) characters and genuinely funny jokes."
We presumably mean 'cheap-looking' rather than simply 'inexpensive' here, though I've never seen Miranda's set wobble. Generally when people say this all it boils down to is 'lit more brightly', a genuine issue with studio sitcom that has to blanket light for around four cameras at once. A logistical problem worthy of debate.
But there's no mention of multi-camera lighting here, just cheapness of design. And it begs the question: is the Miranda set really cheaper-looking than anyone else's? When its designer, Harry Banks, was working on Jam & Jerusalem or The Smoking Room was he really thinking "Hey, these shows aren't going to have a laugh track, I guess I'd better make them look good."
The point actually diffuses itself, though. Boiled down it pretty much says 'I only mention disliking the set because I don't like the characters or the jokes.' Which is another way of saying 'I am unable to distinguish my appreciation between different aspects of production.'
A good script can be badly performed. A bad performance can be beautifully photographed. A collection of great shots can be badly edited. Nuance is your friend.
"Miranda's asides to the camera are completely unnecessary… Miranda asks the therapist… if the fruit in his bowl was real. He responds by asking the old psychiatrist cliché: "How do you mean?" After she simply rephrases the question, she turns to camera and adds "I don't know how to make it any clearer." It's a struggle to decide whether Hart considers her viewers to be so mentally challenged that they can't see the joke implied, or if she genuinely thinks she's being funny."
See also that utter hack, Eric Morecambe. "This boy's a fool." Why say it? Wasn't that opinion clear already from his place in the script?
The idea that there's only one way to play a joke – under, darling, always under – again fundamentally misunderstands the nature of performed comedy. If nothing else, the asides to camera are just the stylistic equivalent of Peep Show's interior monologues:
MIRANDA: Is that real fruit?
PSYCHIATRIST: How do you mean?
MIRANDA: I mean, is that fruit real? (to camera) I don't know how to make it any clearer.
Handle this the Peep Show way:
MARK: Is that real fruit?
PSYCHIATRIST: How do you mean?
MARK: I mean, is that fruit real?
MARK VOICEOVER: I literally cannot think of another way to rephrase that question.
There's common experience at the base of this – when someone asks you what you meant and you can't conceive of a more simple way of explaining than the one you just used. We've all felt it. The joke isn't 'it's hard to think of another way', it's in the familiar, exasperated sensation – and our being included in it. This is something Peep Show revels in… yet Miranda should, apparently, be chided for.
It's a struggle to decide whether Gee considers her readers to be so mentally challenged that they can't see the hypocrisy implied, or if she genuinely thinks she's being funny. Don't give me 'unnecessary asides'. Asides are funny. We discover our characters through them, and we see ourselves reflected in them.
So there you have it.
When the Telegraph piece first appeared I tweeted a link to it, accompanied by harsh, throwaway disparagement. The level of inaccuracy, myth-making and contradiction seemed too vast to refute point-by-point. Like claiming the moon was made of ice cream. At some point a thing is just too ridiculous.
But, as the saying goes, you resort to name-calling, you get called names. It's not a good saying, and people don't actually say it, but it is what happened.
A 'journalist' claiming to be Gee's friend responded thusly: "You're a writer and the best counterargument you can come up with is 'utter moron'? GOOD WORK." Followed by "'Moron' isn't exactly enlightening or insightful." And then "You numb cunt. (See?)"
Ouch.
But yes, maybe what I assumed was obvious-to-anyone bad journalism was… well, not obvious. Maybe we don't expect professional media commentators to know the difference between canned laughter and live audience, a flop and a personal dislike, an unnecessary writing technique and a simple matter of taste. Maybe even a bad argument deserves intelligent rebuttal.
This is the closest I've been able to manage.
Like what you like, dislike what you don't, ignore the rest. Write about what's not working for you, by all means. Explain the confusion of finding something you can't stand becoming popular.
But please, know your topic before you start typing. No more canned opinions.
With thanks to John for lending me his webspace in which to deposit my brainpoo.
* CORRECTION: While Thomas Wanker composed the music for the fifth season of Buffy, in fact the final episode referred to here was scored by his predecessor, Christophe Beck.