When it comes to rumours and Who Framed Roger Rabbit, you all know the drill. Eddie Valiant and Jessica chase Judge Doom out of Toontown, they crash spectacularly, sail through the air, Jessica's dress hitches up, and you may or may not be able to see her hairy minge. The whole thing has been investigated in great detail, although frankly not quite enough detail for my taste.
Still, that's not what this piece is about. No, my query is about another rumour associated with the film – and specifically, about this scene in Toontown with Eddie: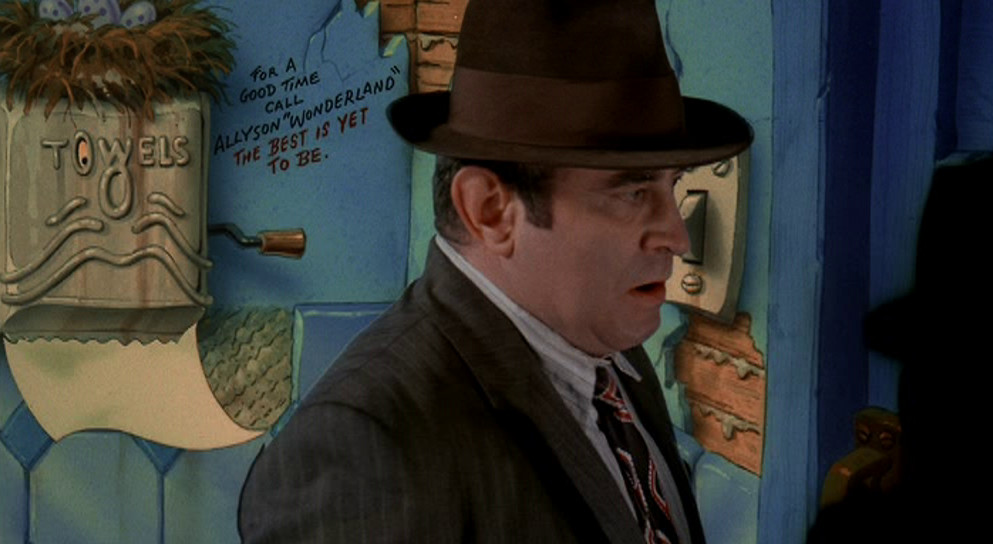 We'll let the previously linked to Snopes article give us the basics (emphasis mine):
"In another scene, Bob Hoskins steps into a Toon Town men's room. Graffiti on the wall reads "For a good time, call Allyson Wonderland", with the phrase "The Best Is Yet to Be" appearing underneath it. Allegedly, Disney chairman Michael Eisner's phone number replaces the latter phrase for one frame. Although the "Allyson Wonderland" graffiti is clearly visible on laserdisc, Eisner's phone number is not. If the phone number was in the film originally (as rumor has it was), it was removed before the home versions of the movie were made available."
The removal of this phone number seems to apply to every single home version of the film I – or seemingly anyone – has ever come across. LaserDisc, VHS, DVD, Blu-ray, the lot. If Eisner's phone number was ever there in the film's theatrical release, it's gone from the retail versions. If is was ever there, of course. Because without evidence, this really starts to take on the feeling of an urban legend. Notably, Snopes has no actual evidence to offer, and the article goes out its way to label the phone number story as a rumour.