This is very, very silly. Here is what awaited me when I popped over to Twitter last Wednesday evening: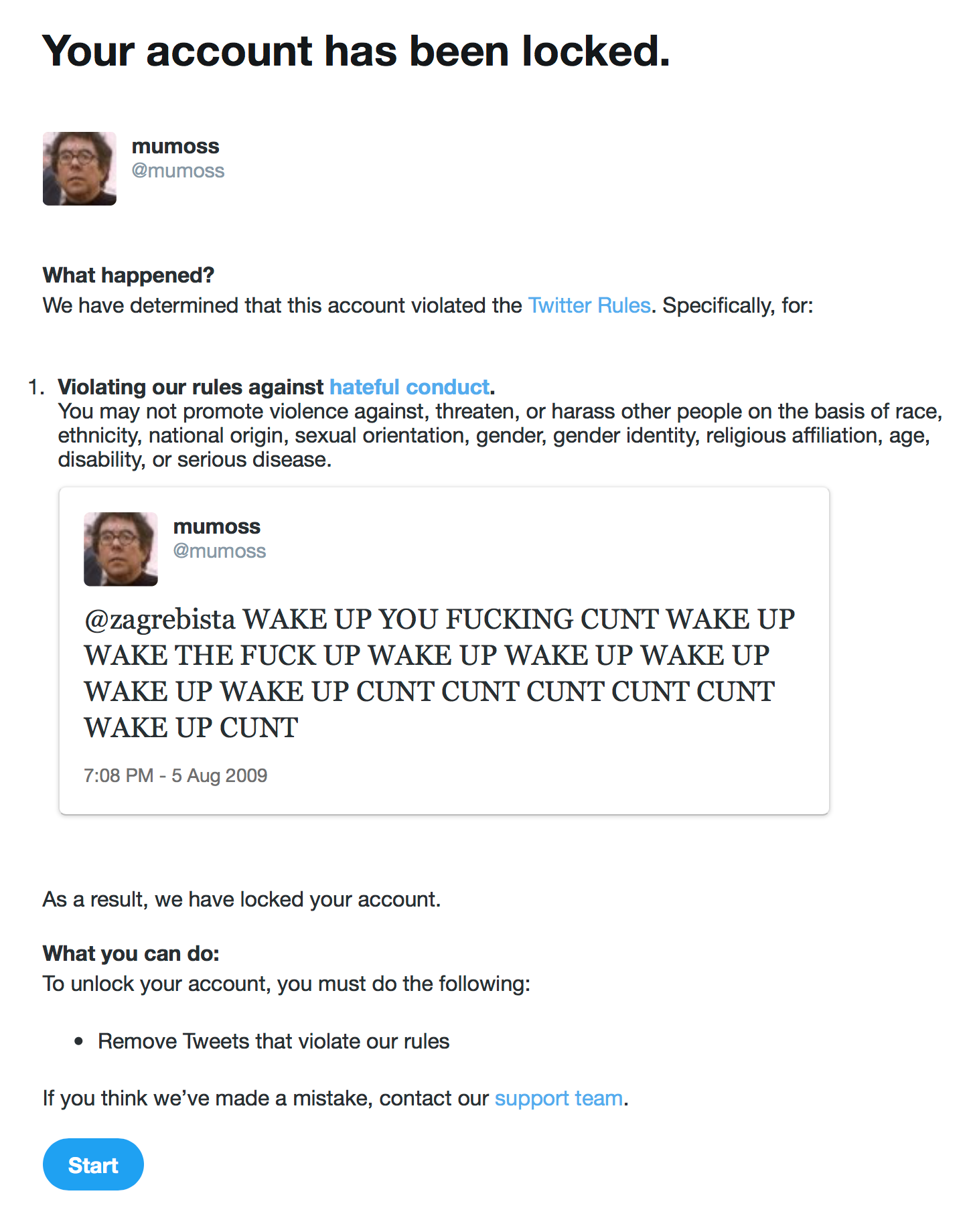 Just to be clear: "locked" means I can no longer post any new tweets. All my existing tweets can still be read by others, but currently I can't do anything with my account. I can't even browse Twitter in read-only mode – all I get is the above locked screen.
A few points:
a) I do not think calling a friend a cunt as an obvious joke counts as "hateful conduct", regardless of whether you like the word or not. Nor does the person I sent the tweet to, incidentally.
b) The tweet apparently causing all the trouble is nine and a half years old. If Twitter had a problem with this tweet, the correct time to deal with it would have been… nine and a half years ago. Asking for this to be deleted is not a reasonable request from Twitter.
c) If Twitter wants to deal with hateful conduct properly, they should ban more Nazis instead.
For what it's worth, I have lodged an appeal, pointing out these facts. I could get my account reinstated immediately by deleting the tweet, but – currently, at least – I am disinclined to do so.
I have had no reply as of yet. Four days and counting.
As for what inspired Twitter to drag out a nine and a half year old tweet, who knows? Either somebody stupid reported it, or Twitter are doing some kind of bizarre search for pointless stuff. I very much suspect the former. You'd think Twitter's algorithms would automatically discard reports for ridiculously old tweets, but that would assume Twitter know what the hell they're doing, and I think we all know the answer to that by now.
I'll keep you updated. In the meantime, I'm afraid you'll all have to do without my hateful conduct for the time being. Many apologies.