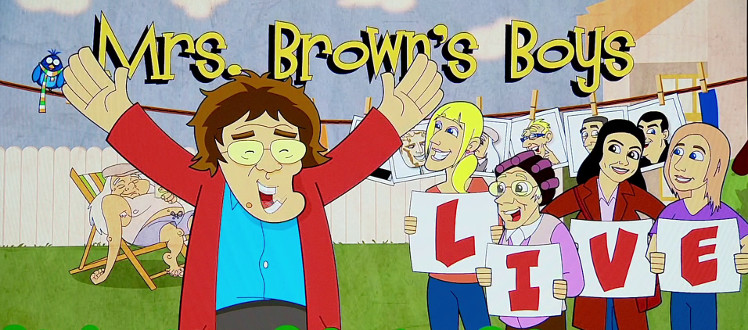 "Now on BBC One, expect the unexpected – for the first time, Mrs Brown's Boys goes completely live. Be prepared for strong language and adult humour. Agnes and her family are waiting in the wings – so it's time to hand over to the director in BBC Scotland…"

— BBC One network continuity announcement into Mrs Brown's Boys Live, 23rd July 2016

"Alan Carr hosts the comedy Live at the Apollo, now at 11:15. Before that on BBC One, strong language and adult humour, as we catch Agnes live – and on the hop…"

— BBC One network continuity announcement into Mrs Brown's Boys "Live", 30th July 2016
Last year, one of my most popular pieces here on Dirty Feed was this analysis of the 2005 live version of Quatermass – specifically, the differences between the original live show, and the edited version now widely available on DVD. Near the end of the piece, I wrote the following:
"Maybe we should be careful not to overstate the originality of the 2005 Quatermass. Sure, the BBC billed it as its first live drama for over 20 years. But looking to other broadcasters, Coronation Street did its first live programme in 2000, five years previously – and looking across to America, ER's live episode was in 1997. But still, as the beginning of the BBC's renewed interest in live drama and comedy – through to EastEnders, Two Pints, Bollywood Carmen Live, and next year's Mrs. Brown's Boys live episode – it's extremely important."
One the 23rd July, that live Mrs Brown's Boys episode was transmitted – and a week later on the 30th, we had a repeat. If ever there was a piece which I just had to write, this was it. Did much change between the two broadcasts? And if it did, will the show incur the hell and fury which Quatermass unleashed from these very fingertips?
Let's take a look. All times given are from the repeat version of the episode, so you can watch along and see where the changes were, even if you haven't got a copy of the original episode itself. Incidentally, the version now available on iPlayer is the edited repeat version.