I know, I know. Posts about Spotify being stupid are ten a penny online. But dammit, I'm allowed one of them.
Let's take a look, then, at Spotify's "This Is The Shangri-Las", described as "The essential tracks, all in one playlist." When it comes to the Shangri-Las, this should not be a difficult thing to make, considering they were only active for such a short time; all their actual records were released between 1963 and 1967. Not even Spotify can screw this up, right?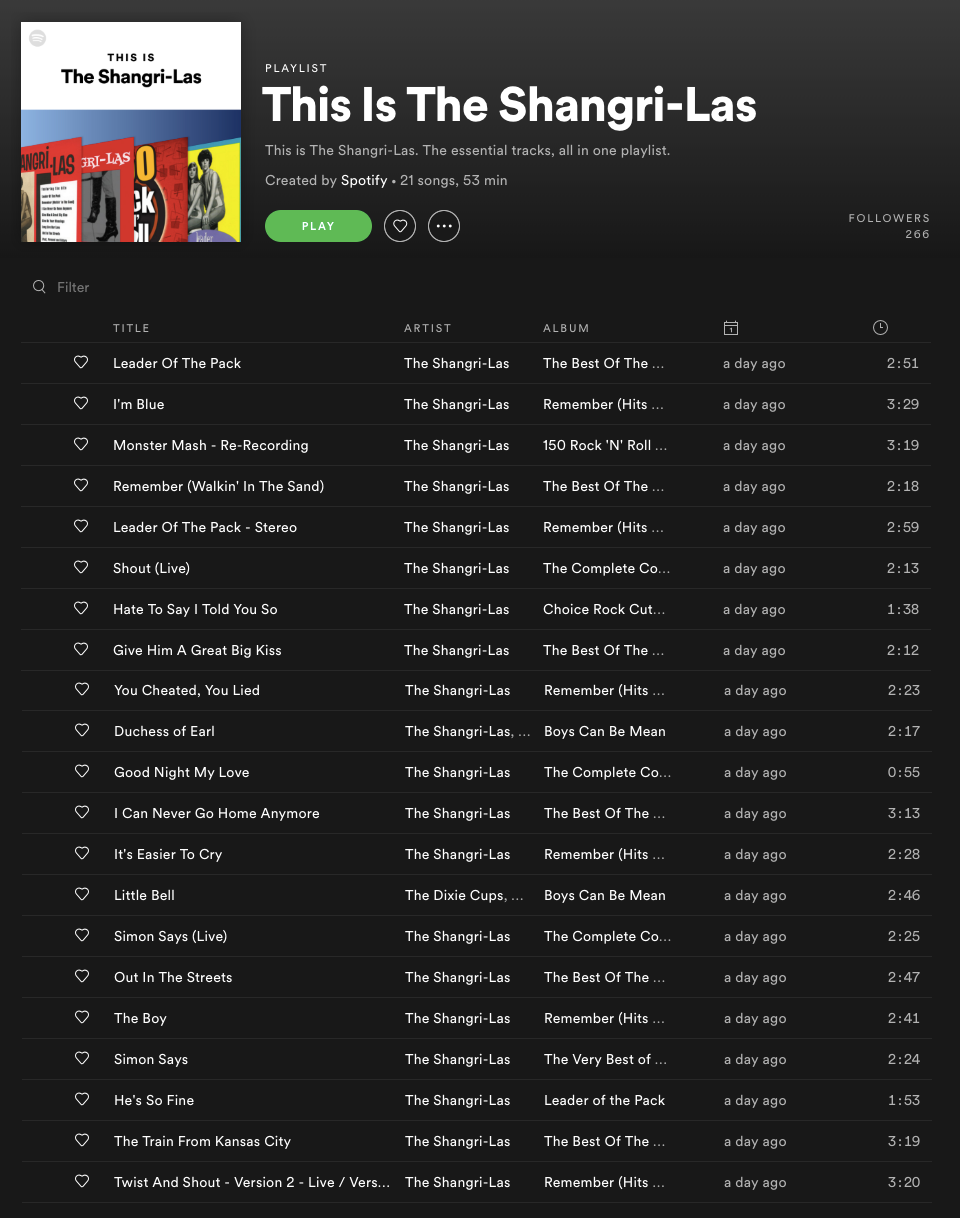 Hmmmmmm. Even the most casual Shangri-Las fan will see a few things wrong there. Let's take them one by one.
Monster Mash Re-Recording (150 Rock 'N' Roll Classics)
Oh, could it be true? Please say it's true. Please tell me the Shangri-Las recorded a version of Bobby Pickett's "Monster Mash". That might possibly be the best thing which has ever existed in the entire world.
Well, no. Of course they bloody didn't. To add insult to injury, this isn't even the original recording. How this ever got labelled as a Shangri-Las track is a mystery.
Duchess of Earl (Boys Can Be Mean)
Absolutely nothing to do with the Shangs – this is the Pearlettes from 1962, with their cover of Gene Chandler's "Duke of Earl".
Oddly, Spotify has the song credited to the Pearlettes and the Shangs, so some metadata has got confused somewhere. Why Spotify felt the need to grab a song from a compilation CD when there's plenty of Shangs-specific albums on the service is also a mystery. That just seems designed to lead to this kind of confusion.
He's So Fine (Leader of the Pack)
This one is particularly strange. No, the song is nothing to do with the Shangs – this is The Chiffons from 1963. But things get strange when we check where the song has come from.
It's another compilation album, called "Leader of the Pack" from 2011, which is most certainly not the original Shangri-Las album from 1965. It contains 14 songs which are actually by the Shangs… and this single one which isn't. So a) bad luck Spotify, you played the odds and lost, and b) I find it difficult to believe that 2011 album is a legitimate release. It probably shouldn't even be on Spotify at all.
Little Bell (Boys Can Be Mean)
From the same compilation album as "Duchess of Earl" comes "Little Bell", which of course was not the Shangs, but their Red Bird labelmate The Dixie Cups.
Again, the metadata on this credits The Shangri-Las and The Dixie Cups, but at least I can see where the confusion comes from this time. This almost certainly stems from the 1986 compilation album The Dixie Cups Meet The Shangri-Las. (Needless to say, that album is just a bunch of hits from both groups, rather than anything more interesting.)
* * *
So, my question is: how are Spotify's "This Is…" playlists put together? Are they curated by actual people, or is this just an algorithm going rogue because of incorrect metadata? For the answer, let's take a look at Spotify's guide to playlists; the relevant section for us is "Editorial – Made by us":
"We handcraft thousands of editorial playlists. You can tell it's one of ours by that little Spotify logo on the top left corner.

Our Editorial team is made up of genre, lifestyle, and culture specialists from around the globe. Their understanding of the right music for every moment is based on years of experience and careful consideration of listening habits.

We also personalize some of these playlists so they have different tracks for different listeners, because we know everyone's taste is different. Therefore, a playlist with sing-along hits can have songs each listener would know the words to!"
So reading between the lines, the "This Is…" playlists are mainly a real person making them, and an algorithm doing some tweaks. Let's hope the four tracks above weren't added by Spotify's Editorial team; you would think that a team of specialists would at least be able to figure out whether a track for a Shangri-Las playlist was actually by the Shangri-Las or not.
Of course mistakes happen. If it had just been one wrong track, I would have rolled my eyes and ignored it. But I would suggest that four incorrect entires – on a playlist of just 21 tracks – is taking the piss. A full 20% of the playlist is entirely wrong. And worst of all, "Sophisticated Boom Boom" isn't even there. Come on. This is not the carefully curated playlist Spotify claims it is.
May I suggest: if you want a decent overview of the Shangri-Las, listen to the "Remember" compilation instead. And don't miss "Dressed in Black".