I remember the very first time I ever became aware of KYTV.
It wasn't through actually watching it, like a normal person. That would be too easy. No, it was reading a rather snotty reference to it in What Satellite magazine, where some idiot columnist made some outraged remark about the BBC making fun of their precious satellite television while forcing everyone to pay the licence fee. It was a remark which, if Geoffrey Perkins or Angus Deayton had read it, I suspect would have filled them with glee. Irritating various people who deserve to be irritated is entirely within the remit KYTV had set itself, after all.
In any case, it's easy to accuse the columnist of over-sensitivity. "A parody of cheap satellite TV" might be part of what KYTV is doing, but it most certainly isn't all of it. If that was true, then for a start, they wouldn't have been able to reuse so much material from the show's radio predecessor, Radio Active. No, the targets KYTV had in its sights were fairly scattershot. For every joke about dishy dish girls, there's another about BBC2 theme nights. And for every joke satirising cheap and exploitative TV, there are jokes which aren't much about TV at all. You could stick Martin Brown in any environment, and he'd be funny.1
Which brings us to Challenge Anna: the last episode of Series 1 of KYTV, the best episode of the show made up until that point, and up there with the best full stop. In the programme's sights are Challenge Anneka – a BBC show – and Treasure Hunt – a Channel 4 show. Indeed, neither programme is the kind of thing which Sky or BSB could really afford to make in 1990. And while the feature "Spin the Wheel" could be viewed as what could happen to the formats if dirty old Sky got hold of them, jokes about companies helping out on the show in order to get their name mentioned are very much digs at the Beeb.
Sadly, KYTV has fallen down the cracks of comedy history somewhat – more, in fact, than Radio Active itself, which has had an ongoing successful stage revival, and this year is up in Edinburgh for the team's 40th anniversary. So let's redress the balance. With many thanks to Darrell Maclaine-Jones, I have in my possession the script for Challenge Anna. And contained within are all kinds of differences to the broadcast episode – with whole scenes included which didn't make the final cut.
Let's take a look, shall we?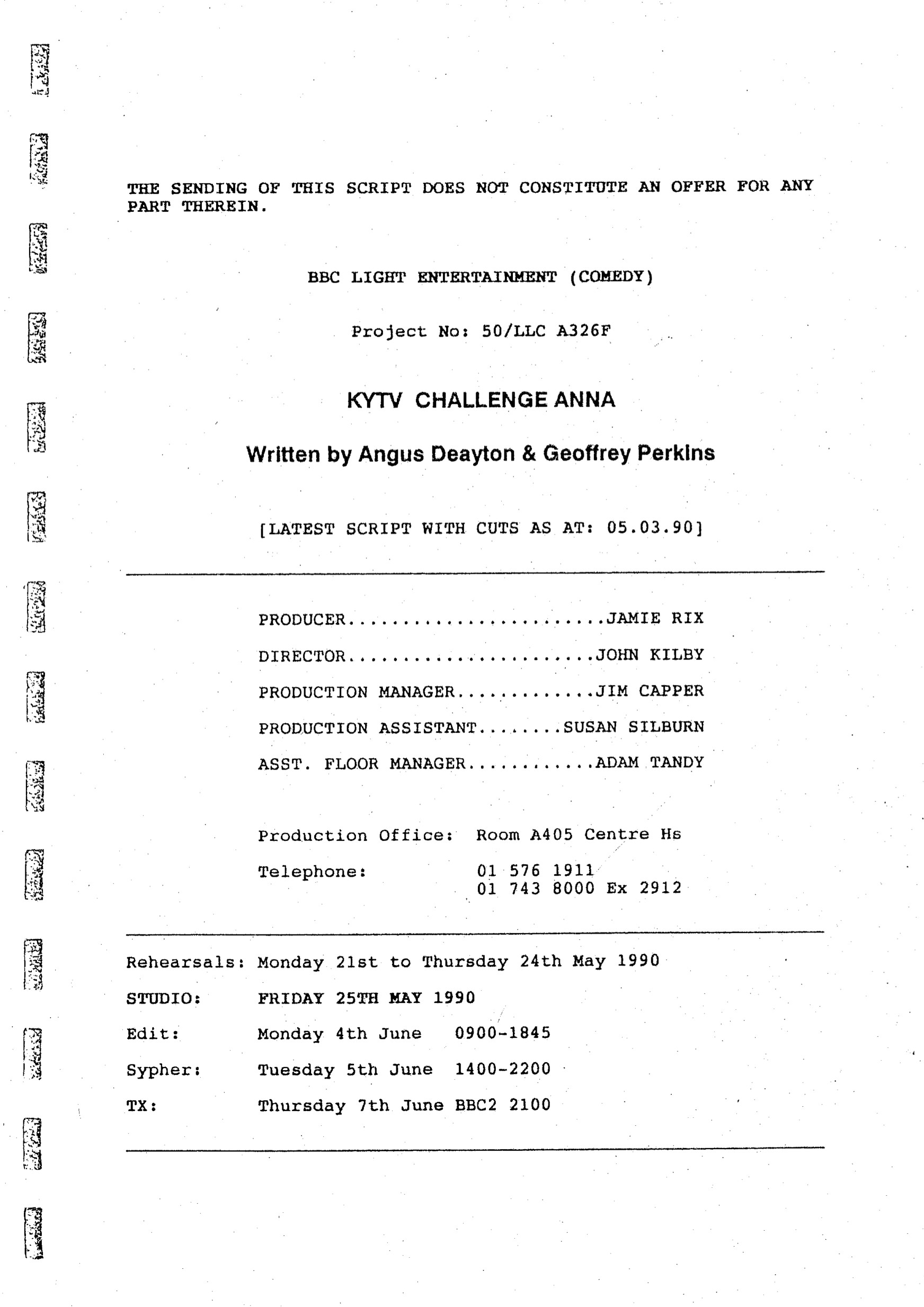 NOTE: Material which is only present in the script is styled like this, and material which is only present in the broadcast episode is like this.
---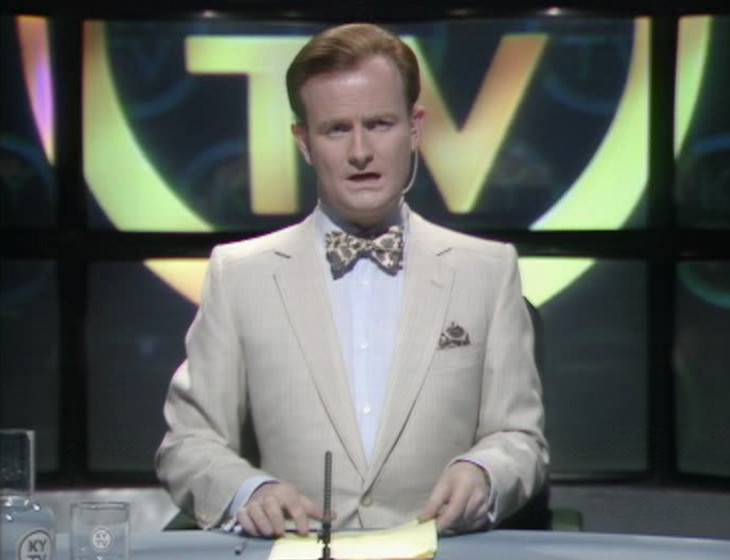 (0:00) Most episodes of Series 1 of KYTV start with a non-sequitur gag as BBC viewers join the network; for instance, the launch show begins with the memorable line "…but the minister claims that Pamella Bordes merely took down his dictation." Oddly, the final broadcast version of Challenge Anna doesn't begin with one of these gags, but one was scripted:
ANNOUNCER: …although Mr Moynihan has denied painting it blue. A few hours ago, St. Dunstan's Hospital in Swindon notified us here at KYTV that a Mr. Reginald Hartford was in urgent need of a new spleen.
Amusingly enough, if you remember the newspaper stories from the time, Colin Moynihan was linked with… a certain Pamella Bordes. A subject which was clearly on the team's mind in 1990.
As for the "painting it blue" gag itself, it was used in the Radio Active episode "Round Your Parts", attached to Macmillan instead:
Download "Radio Active (23/07/84) – Painting it Blue" (0.6MB MP3, 0:27)
It was also used as a running joke on the second HeeBeeGeeBees album 20 Big No 2s, also released in 1984, so this is a gag that the team particularly liked. (Tracing back all these gags through their various incarnations is a book in itself.)
---
(0:56) Mike Channel and Mike Flex's excellent joint cry of "Super!" isn't in the script; they simply laugh instead. (I won't be mentioning every tiny change in this article, but this is such an amusing moment that it feels worth noting.)
---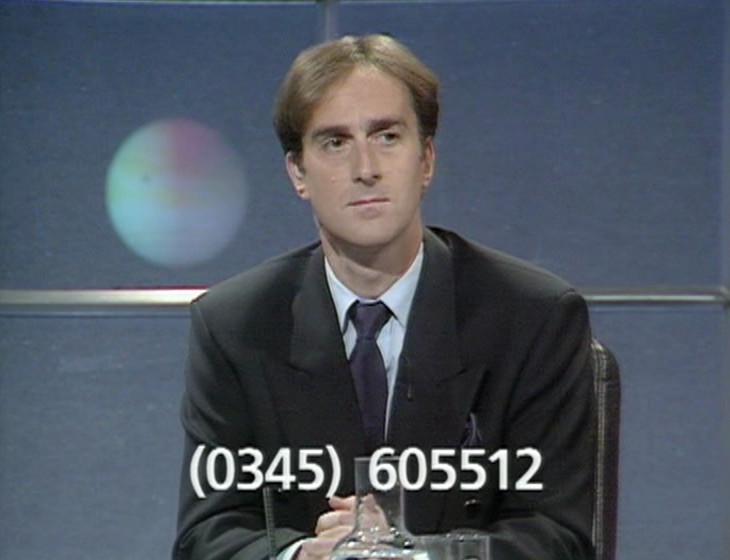 (1:00) The phone number gag is rather different in the script compared to the broadcast version. First, the script:
CHANNEL: Our phone number if you think you can help is…

JINGLE AND CAPTION: 011 4252

FLEX: That number again if you missed it…

JINGLE AND CAPTION: 022 6949
The broadcast version gets even more confusing:
CHANNEL: Our phone number if you think you can help is…

JINGLE: 0800 009… 00… 3
CAPTION: (0345) 605512

FLEX: That number again, if you missed it…

JINGLE: 0898 644
CAPTION: 071-515 2296
It's worth noting that the script has the team still thinking like radio; the final version is very much a television joke. It takes a certain kind of twisted mind to put across four different telephone numbers in less than ten seconds.
---
(1:13) One minute in, how about the first entire scene which was cut? Yes, the first scene scripted for Anna never made it to the air:
SCENE 3
FILM
ANNA IN WINE BAR (BILL)

SNAZZY JOLLY GRAPHICS ETC

ANNA: [TRACKSUITED WITH HEADPHONES] I'm here in this wine bar waiting for my challenge. I've no idea what its going to be… excuse me… have you got something for me. [MAN HANDS HER PIECE OF PAPER] Oh no, that's impossible? We never had that extra bottle of mineral water… get that taken off the bill… and bring me a receipt.

WAITER TAKES BILL AND LEAVES
Instead, the scenes were rearranged, and Scene 5 – Anna's second scene in the script – is brought forward and made Anna's first scene instead. This explains why, when we first see Anna in the final programme, she mentions there's "still no sign of the challenge".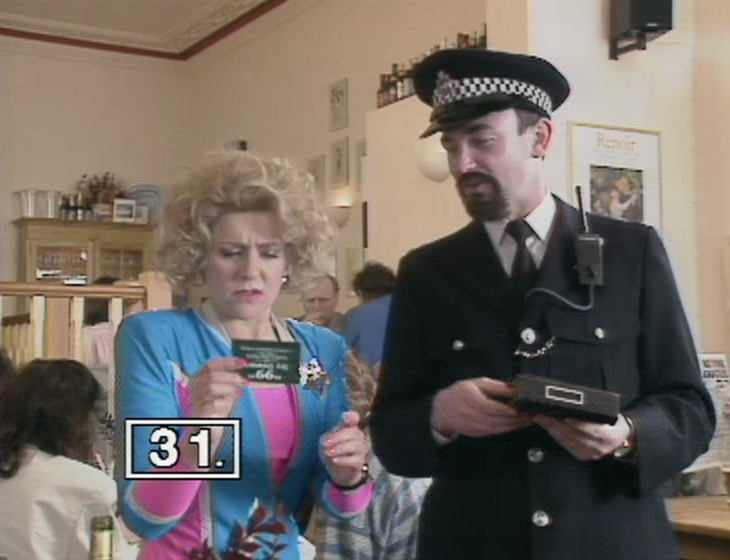 Even then, this new first scene still has some cuts made to it – here's a section which never aired:
POLICEMAN ENTERS

POLICEMAN: (Mike) Anna Daptor from the Challenge Programme?
ANNA: Yes. Have you got a challenge?
POLICEMAN: Yes. Can you move your buggy from outside the restaurant… it's causing an obstruction.
ANNA: Right.
POLICEMAN: Oh yes… I nearly forgot. In the pleasure of booking you… I think you might be interested in this…

ANNA LOOKS AT PIECE OF PAPER

ANNA: Your dry-cleaning will be ready on Thursday.
This section was clearly shot – a cutaway to Mike Channel disguises the edit.
DIRTY FEED PROUDLY PRESENTS:
A MIKE CHANNEL CUTAWAY USED TO DISGUISE AN EDIT
PART #1 OF 3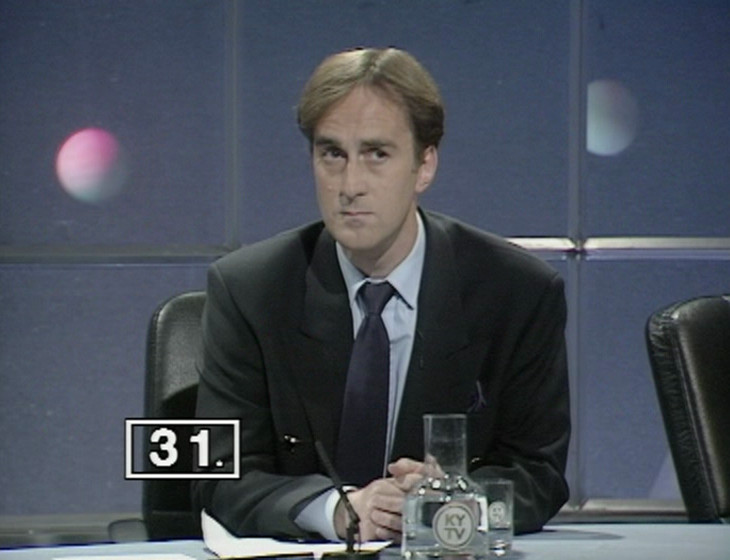 The main thing these two edits achieve, of course, it that they cut three "mistaken challenge" jokes down to one. And while there's a fine line between a running joke and a repetitive one, I would suggest the script falls into the second category, and the cuts are a vast improvement.
---
(2:36) Before Mike Channel introduces poor old Reginald Hartford, there's a deleted section referring back to the cut Anna introduction scene:
CHANNEL: Well, as far as I'm aware that wasn't in fact this week's challenge – to spot an extra bottle of mineral water on your bill. But that gives me the opportunity to explain the set-up here. First of all we have the most important man of all in this programme – Mr. Reginald Hartley…
Hang on – Reginald Hartley? In the finished programme, it's Hartford! In fact, the script is inconsistent on this – while it mainly refers to Hartford, occasionally Hartley is used instead. Presumably they renamed the character at some point, but hadn't entirely tidied up the script yet.
---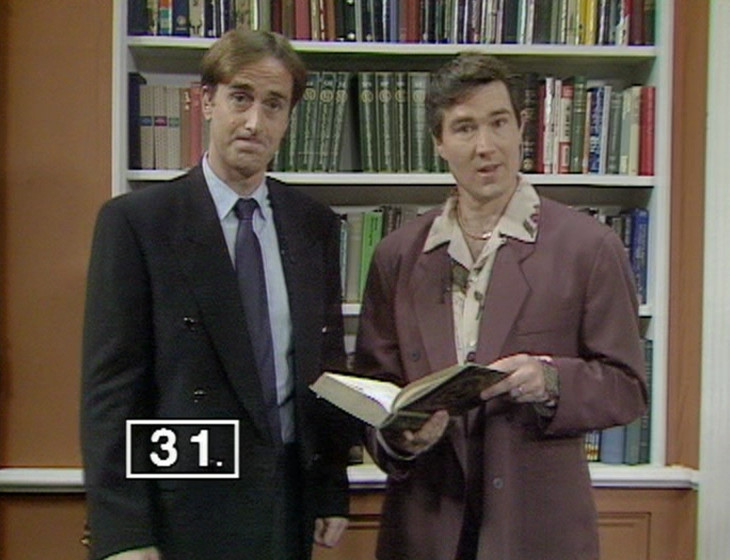 (3:42) In the scene where Mike Flex starts trying to flog things, the script simply mentions the "Home Shopping Channel"; the finished programme uses "Sofa Shop" as per the rest of the series. Bits of the programme's lore were still being nailed down at this point.
The following amusing exchange is also completely absent from the script:
FLEX: And what about this shirt, Mike…
CHANNEL: Disgusting. [LEAVES]
---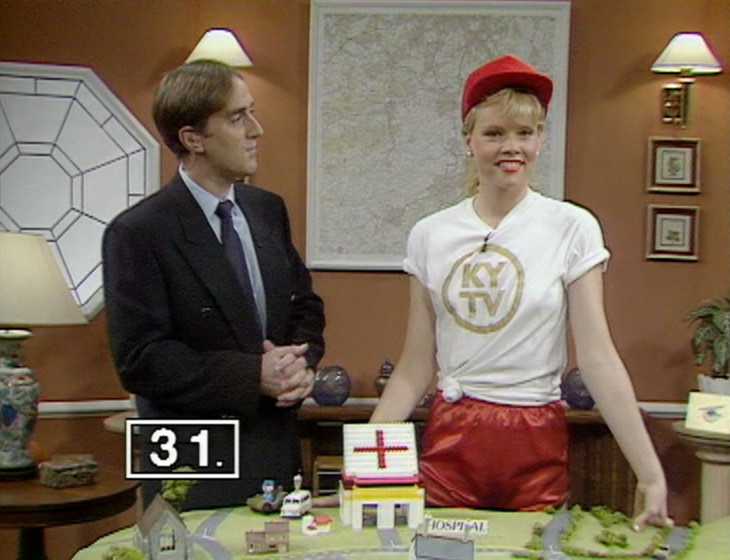 (3:57) Ah, the first of many, many changes to do with Debbie – described as a "KY DOLLY" in the script. Firstly, here's the scripted version:
CHANNEL: Debbie, the scale of this model…
DEBBIE: [LOOKS BLANKLY] Yeah?
CHANNEL: It's, um… [SEES SHE'S NOT GOING TO ANSWER] It's very small, isn't it?
DEBBIE: Yes it is.
CHANNEL: Yes, good.
The broadcast joke, meanwhile, is as follows:
CHANNEL: Debbie, the scale of this model…
DEBBIE: Yeah?
CHANNEL: It's erm…
DEBBIE: Is it?! Where?!
CHANNEL: Good… well, erm…
For my money, the broadcast version is odder, and funnier. The script is a little too obvious; the rewrite twists it into something more interesting.
We'll be coming back to Debbie later. The changes made to her are the single most interesting thing about the script.
---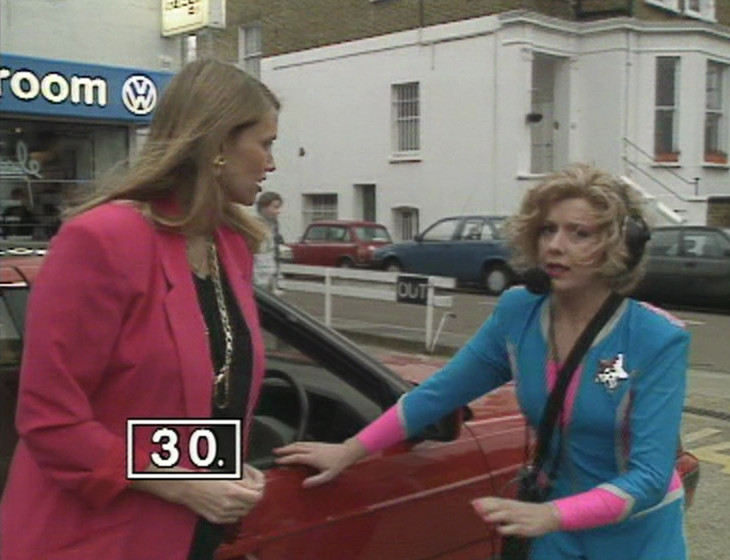 (4:50) Ah, Anna's vox pops section. Minor point: a character played by Perkins informing her that "I've already given at the office" is cut. But that's not there the real delight of this section lies.
Let me quote from the script the section where Anna runs into Anneka Rice:
ANNA: Excuse me. I was wondering if you could help me.
ANNEKA RICE: What do you want?
ANNA: [SEES WHO IT IS] No, never mind, I'll ask someone else.

EITHER DO THIS WITH HER CONSENT AS SCRIPTED OR SIMPLY SURPRISE HER AS SHE DOES TO OTHER PEOPLE.
And so, Dirty Feed can exclusively reveal the trick that Angus Deayton and Geoffrey Perkins considered pulling on Anneka Rice. The words "as she does to other people" have never been more pointed. Clearly they never went through with it – the final version as broadcast is obviously staged – but wouldn't it have been amazing?
It's also worth noting that in the script, the bit with Anneka Rice comes before the guy from Cuthbert and Emberley. In the final programme, she correctly comes afterwards, because… come on, surely the rule of escalation comes into play here?
---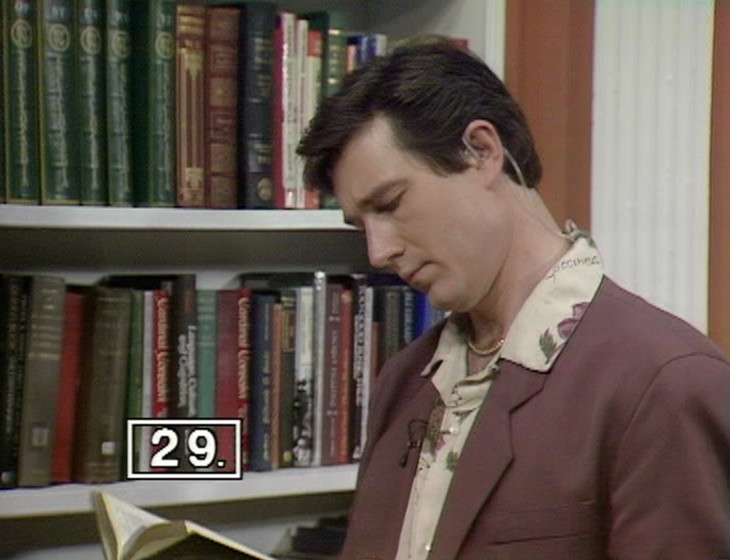 (5:16) Ever wondered why there's a slightly odd extended cutaway of Mike Flex examining his books during the scene where Anna meets Dave the Donor? Answer: so they could hack away at the dialogue without having to worry about the visuals:
DAVE THE DONOR: What's he doing?
ANNA: Just a blood test.
DAVE THE DONOR: Just a blood test… what…
ANNA: Yes… right… hurry up we've only got six hours.
DAVE THE DONOR: What for? What do you want me to give you?
ANNA: Nothing… just a small spleen that's all… come on.
DAVE THE DONOR: Now hang on a minute.
ANNA: Are you AB Negative?
DAVE THE DONOR: I need my spleen.
ANNA: No you don't.
DAVE THE DONOR: Well how come somebody else needs it and I don't?
ANNA: It's just like swapsies… now come on.
DAVE THE DONOR: What do I get?
Most of the cut stuff is extraneous, but I do love Anna's "swapsies" line.
Following on from all this, in the script, Dave the Donor is promised as his prize "two tickets to Michael Jackson at Wembley Arena". In the broadcast episode, it's "a night out at the Poco Poco Club in Stockport". The lameness of the revised prize makes Dave the Donor's willingness to have his spleen removed infinitely funnier.
---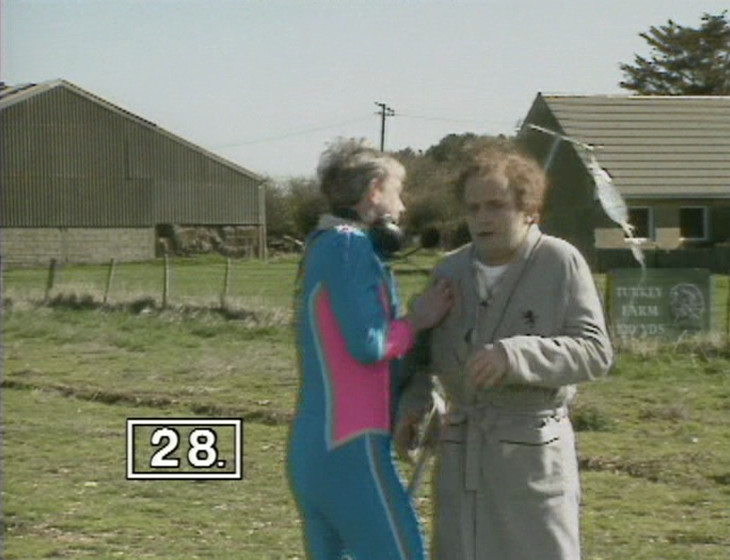 (6:22) When Martin finally meets up with Mr. Hartford, the script simply mentions that he shakes hands with him and gives him a thumbs up sign. The broadcast episode has Martin knock over his drip instead, which is far more amusing.
Nothing to do with edits, but just for the record: I have rarely seen anyone look quite so fucking ill as Philip Pope manages to look for the cameras in this episode.
---
(6:52) A small bit of cut dialogue from Mike Channel, present in the script but missing in the final episode:
CHANNEL: And as always on Challenge Anna, Martin has no idea of where he's going… In fact that's true most of the time actually but especially on this programme because both you and he will be blindfolded. Possibly even a help in his case. Now as usual, you'll be taken up by helicopter and dropped at a secret location and you've got to get to the hospital using Martin's initiative. Might sound like a contradiction in terms but those are the rules.
---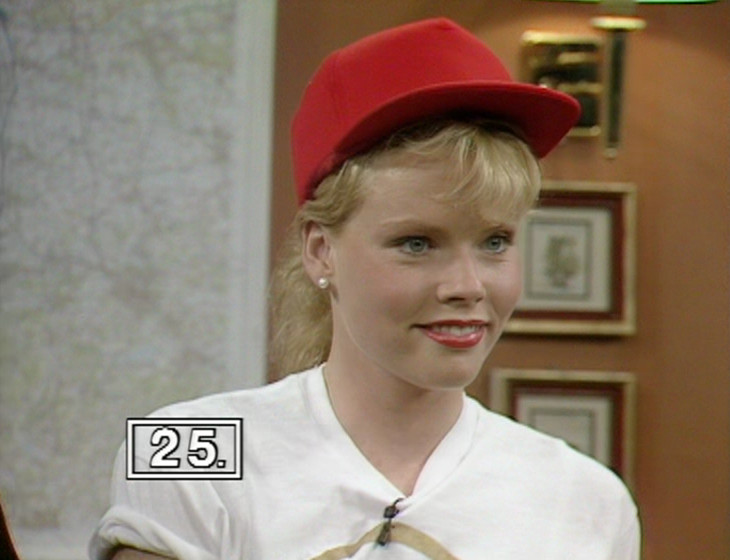 (7:41) Hooray, more Debbie stuff which is nowhere to be seen in the script, but is present and hilarious in the broadcast episode. We have Debbie's cry of "Map!", her toy helicopter, her winding up the aforementioned toy helicopter, and the following excellent exchange:
CHANNEL: So, not exactly breaking the land speed record at the moment. Is she, Debbie?

WE HOLD ON DEBBIE FOR ENTIRELY TOO LONG

CHANNEL: Mike, any pieces of historical in-
DEBBIE: Ha ha, no Mike, she's certainly not!
CHANNEL: Super.
Plenty more from Debbie to come.
---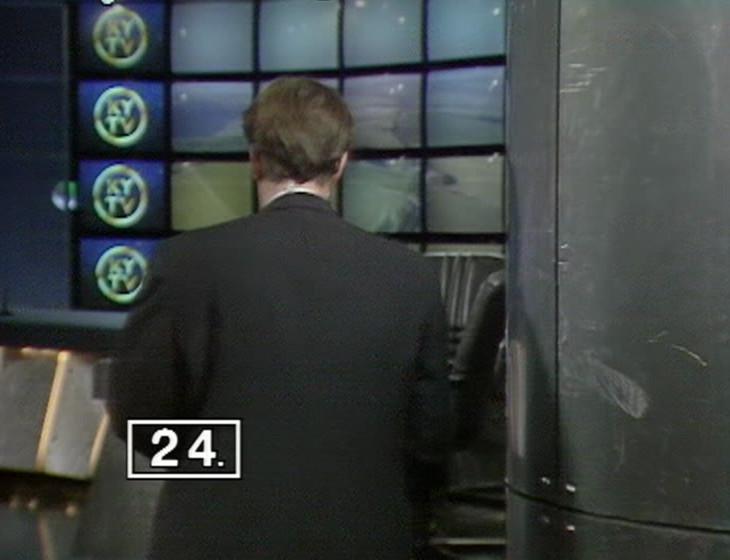 (9:09) Ah, welcome to an absolutely beautiful edit. When Mike Channel goes to have a chat with Martin in the helicopter, the following stupid joke was removed:
CHANNEL: Well I believe the helicopter has come back and picked Martin and Mr Hartford up… let's see how they are doing… hello Martin… can you hear me?

CUT TO MARTIN IN HELICOPTER WITH BLINDFOLD ON

MARTIN: No Mike. I'm afraid I've still got my blindfold on.
CHANNEL: No Martin, the other one… left a bit from your eyes.
MARTIN: Oh right…yes I can hear you perfectly Mike.
CHANNEL Any idea how close you are to touching down.
The idea of Martin getting his eyes and his ears confused makes me chortle. But that isn't the interesting thing about this edit. All of the above dialogue is seen as one continuous shot in the final programme. So, how is this possible without a jump cut?
Answer: Angus Deayton actually has his back to the camera during the last half of the scene. So all the production had to do was stick the audio from Mike's "touching down" line over the end of the shot, and the edit is seamless. Well, almost – viewing the scene with the above knowledge, you can now tell where the audio edit is. But it's very well done – and an insight into how TV makes these kinds of edits work all the damn time, without anybody noticing.
---
(9:48) What's this? Another entirely cut scene with Anna Daptor?
SCENE 12
FILM AND STUDIO

ANNA'S SUPPLIES

CHANNEL: Hello Anna… how are you doing?
ANNA: Well Mike. I hope we're going to do it but it's not just a case of getting him to hospital… we've also got to get the supplies as well.

ANNA IN CAR

ANNA: We'll need some sheets, some blankets, some grapes, some magazines… nothing too serious and some Lucozade… where can we get that? Does anybody have the telephone number of the chairman of Lucozade?
CHANNEL: You could just buy some in the shop.
ANNA: Right… and some blood plasma… I'll get that from Safeways.
CHANNEL: Good, well, finger on the pulse as ever… as it were.
This scene feels entirely extraneous, and is an excellent cut.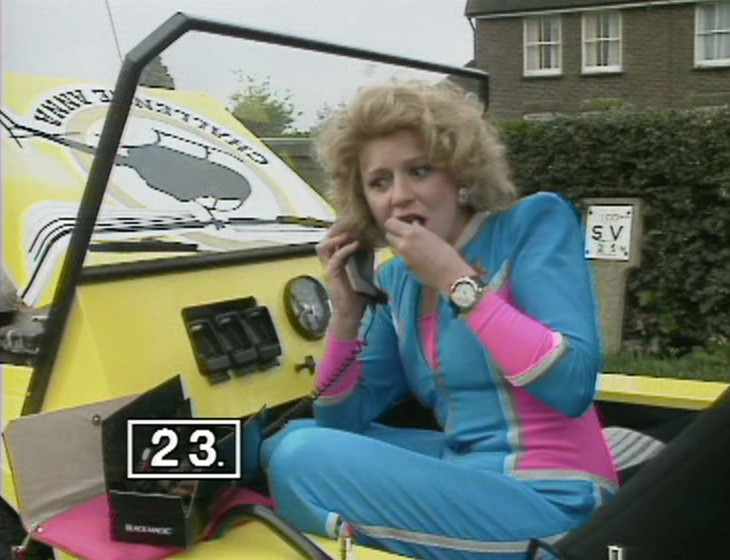 Instead of this scene, Scene 14 is brought forward, in which Anna's buggy has broken down, and Dave Bradley rings up to inform her he wants a bit of free advertising. There is a tag to the scene in the script which doesn't make it to the final episode:
ANOTHER PHONE RINGS

ANNA: Hello.
BRADLEY: Yes… we also specialise in second hand motors.

ANNA SLAMS PHONE DOWN
Another good cut. We've already done that joke, move on.
---
(11:35) OK then, everybody up for an entirely cut KYTV advert?
COMMERCIAL
STUDIO PRE-RECORD
I WANT TO BE

PEOPLE ALL SPEAK IN VOICE OVER

STOCK FOOTAGE

VICAR: I want to be Jewish.
YOUNG BOY: [LOOKING IN DRESS SHOP WINDOW] I want to be a girl.
FOOTAGE OF BRANSON: I want to be anonymous.
JEFFREY ARCHER: I want to be a writer.
MIKE GATTING: I want to be a diplomat.
MURDOCH: I want to be like Robert Maxwell.
MAXWELL: I want to be just the way I am.
CHRIS QUINTEN: I want to be an actor.
FERGIE: I want to be at home with the baby.
EMLYN HUGHES: [SQUEAKING] I want my balls to drop.
ANDREW LLOYD WEBBER: I want to be mistaken for Tom Cruise.
LESTER PIGGOTT: I want to be a tax inspector.
BOBBY ROBSON: I want to be the manager of the winning world cup team.

CAPTION AND V/O: It's as likely as getting a decent rate of interest out of the Providential.
Probably a wise cut – it's not exactly the sharpest material ever written for KYTV – but damn it, I'm a sucker for wringing jokes out of just a bunch of stock footage and a voiceover.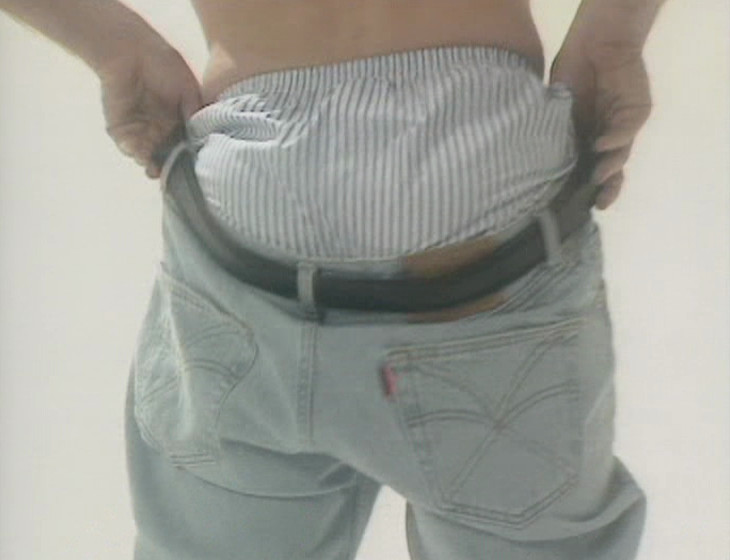 It will not have escaped your attention that in this point in the broadcast episode, there is a commercial break. This is the Sam Cooke "But though I'm dead it makes me happy / To know my music's being used to sell jeans" ad, and the "Pouring hot liquids over small children is dangerous" public information film.2 Both of these were meant to come far earlier in the episode – in the script, they're just before Anna's vox pops.
Incidentally, the Sam Cooke advert has a tagline in the script which isn't in the final episode:
VO: Classic jeans
Classic songs
Dead singers.
In fact, this tagline was used in the original song as featured in the Radio Active episode "Probe Round the Back". And unlike every other piece of reused material from Radio Active, the song was not re-recorded for KYTV – it's just faded down a little earlier:
Download "Radio Active (19/09/87) – Jeans" (1.5MB MP3, 1:01)
---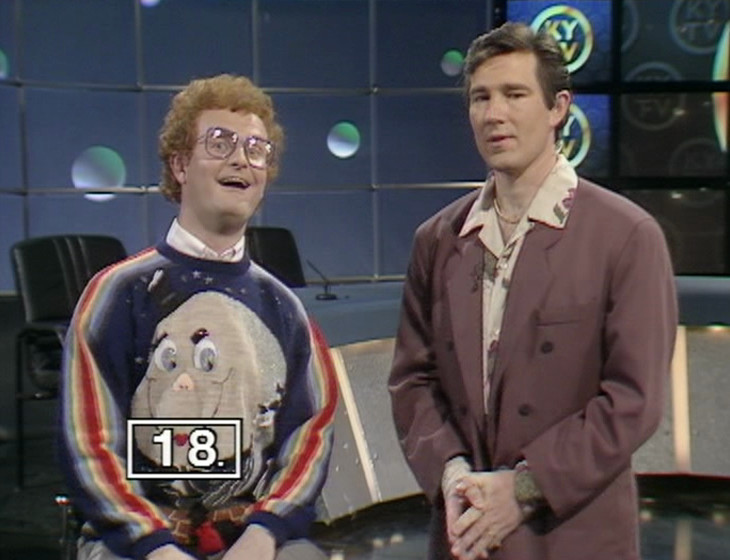 (12:38) Dr. Philip Percygoe, as we shall see, was supposed to have a far larger role in the episode. Of this meaty scene in the script, only a small part of it was used in the final show:
SCENE 13
STUDIO

DR PHILIP PERCYGOE (IN MAP ROOM)

FLEX: Well this is perhaps a good point to reflect on the seriousness of Anna's task today. And to that end we have our resident doctor Philip Percygoe.

PERCYGOE: (Phil) Thank you Mike… well I'd like to start by showing exactly where the spleen is located and to do that I've got the help of one of our fabulous KYTV dishy dish girls… Samantha.

SAMANTHA COMES ON IN BIKINI

FLEX: Lovely.
PERCYGOE: Thank you Samantha.

SHE EXITS

FLEX: Er… you didn't actually show us where the spleen is.
PERCYGOE: Er no… to tell you the truth I'm not too sure… I'm more on the joke telling, barber shop quartet side of the medical profession to be quite honest.
FLEX: OK… well perhaps while we're waiting you could answer one or two medical queries from our viewers. I believe we have Mrs Kerr from Macclesfield in our video box up there.
MRS KERR: (Helen) [ON SCREEN IN VIDEO BOX] Yes, hello Dr Percygoe. I wanted to ask you about an inflamed spot in my eye.
PERCYGOE: Right well I'll answer your question as best as I can Mrs Kerr.
MRS KERR: Thank you.

PICKING UP GUITAR

PERCYGOE: But I'd like… if I may to answer in calypso form. "So Mrs Kerr you've got a spot on your eye"
MRS KERR: That's right.
PERCYGOE: "Tell me does it swell up when you cry?"
MRS KERR: Er… yes.
PERCYGOE: "Does it hurt when you scratch?"
MRS KERR: There is some mild irritation, yes.
PERCYGOE: "Then try wearing a patch".
MRS KERR: A patch?
PERCYGOE: And if that doesn't work, Mrs Kerr you're going to die.
MRS KERR: Going to die… what on earth makes you say that.
PERCYGOE: [STOPPING ABRUPTLY] Well it rhymes with eye you see.
CHANNEL: Yes thank you Dr Percygoe. I think this may be a good point to see how Anna's getting on.

PERCYGOE STARTS PLAYING GUITAR

PERCYGOE: "Let's see how Anna…"

CUT TO ANNA
SOUND OF DISCORDANT GUITAR SMASH
A version of this cut section appeared in the Radio Active episode "The Fit and Fat Show", which gives us an idea of how the sketch would have worked:
Download "Radio Active (18/10/86) – Percygoe Phone-in" (3.3MB MP3, 2:16)
It's the quick-fire reply which really makes the calypso section funny on radio; perhaps this was more difficult to capture for television.
Back to the KYTV script. In fact, this part of the programme takes a slghtly later section from Dr Percygoe, and cuts it together with the brief section indicated above. The script for Scene 16 goes as follows:
SCENE 16
STUDIO

AFTER COMMERCIAL BREAK
DR PERCYGOE AND INTESTINES LINK

FLEX: Welcome back. Dr Percygoe – time ticking by – what sort of state do you think Mr. Hartford's intestines will be in now?
PERCYGOE: Intest…?
FLEX: Never mind… well, things moving at a pretty frantic pace now so let's go over to Martin and see if he's managed to climb over that gate yet.
Instead of Percygoe's confusion over the intestines, the line about the barbershop quartet is spliced in from the earlier scene instead. Shove in a couple of cutaways to Martin battling with the gate, and Mike Channel looking vaguely annoyed, and that's two scenes neatly condensed into one.
DIRTY FEED PROUDLY PRESENTS:
A MIKE CHANNEL CUTAWAY USED TO DISGUISE AN EDIT
PART #2 OF 3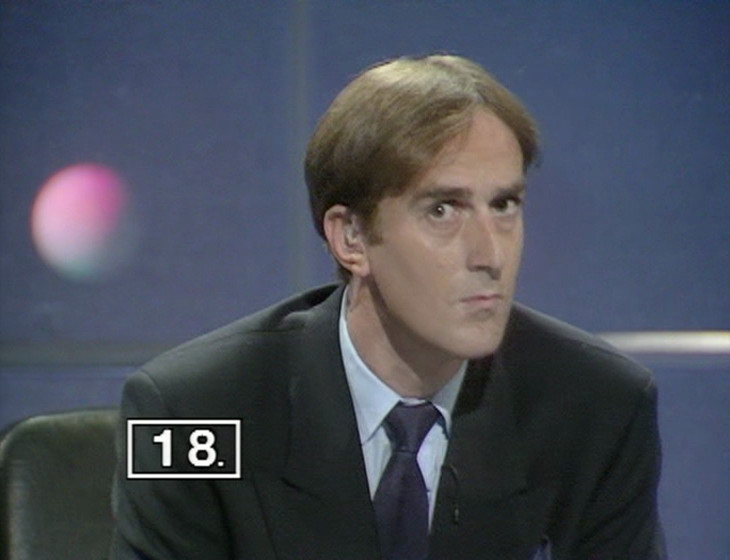 What I particularly like about this edit is that Percygoe's confusion when Mike Flex asks about the intestines is vaguely out-of-character – the point is, he knows nothing about medicine. So the above edit not only works in terms of trimming for time, but it improves things on a character level too.
---
(13:14) There aren't many changes to the scene where Martin has nicked the car, but there's a single cut line from Mike Channel which tickles me: "Oh, so more criminal than resourceful then really." I'll take every last shred of Angus Deayton being sarcastic as I can get, please.
---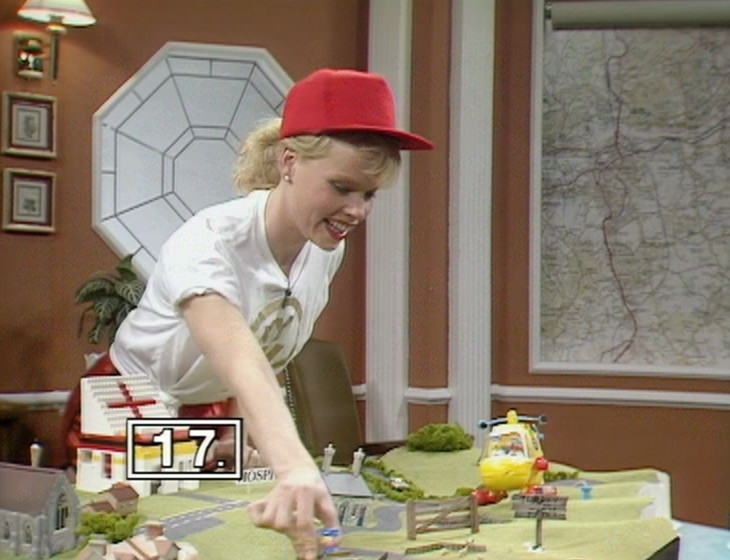 (13:35) Hooray, more of Debbie in the Map Room! She isn't even mentioned in this scene in the script, but here she is, running over livestock with the car, and even getting another namecheck from Mike Channel… before he decides against asking her any more questions.
I promise, all this new stuff with Debbie is leading up to something very interesting indeed.
---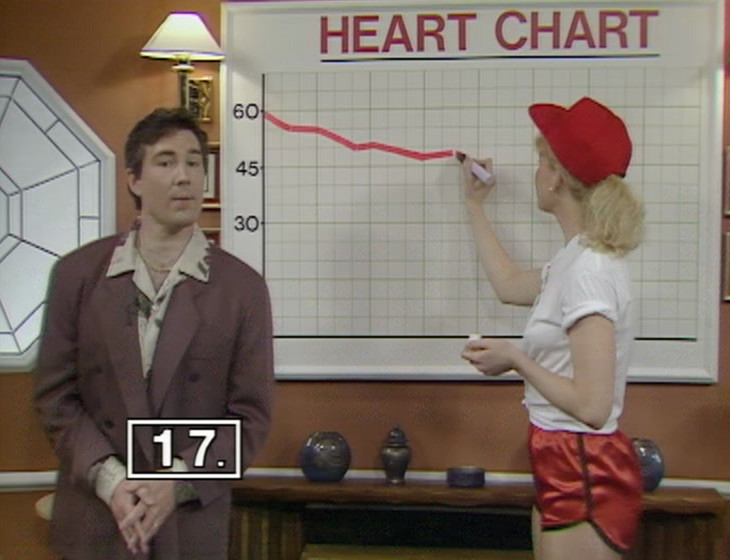 (14:21) Back to Mike Flex – yes, along with Debbie, although again, she isn't mentioned in the script – to take a look at the Heart Chart. The script goes as follows:
FLEX: And don't forget of course if it drops to 34, KYTV will be giving away £5000 worth of record tokens to the first 100 viewers who phone in. Oh and of course Mr Hartford will die.
The broadcast version, meanwhile, adds a far better joke:
FLEX: And don't forget of course if it drops below 34, KYTV will be giving away 500 copies of Kylie Minogue's latest album… to the first viewer who phones in.
---
(16:00) This isn't an edit, but I have to share with you my favourite stage direction I have ever read. After Mike Flex does his long story about the word Mistletoe being derived from 'Missing Toe'3, we get:
CHANNEL: [NOW SIMPLY EMBARRASSED TO BE IN THE SAME STUDIO]
Frankly, this entire article was worth it just to share that with you.
---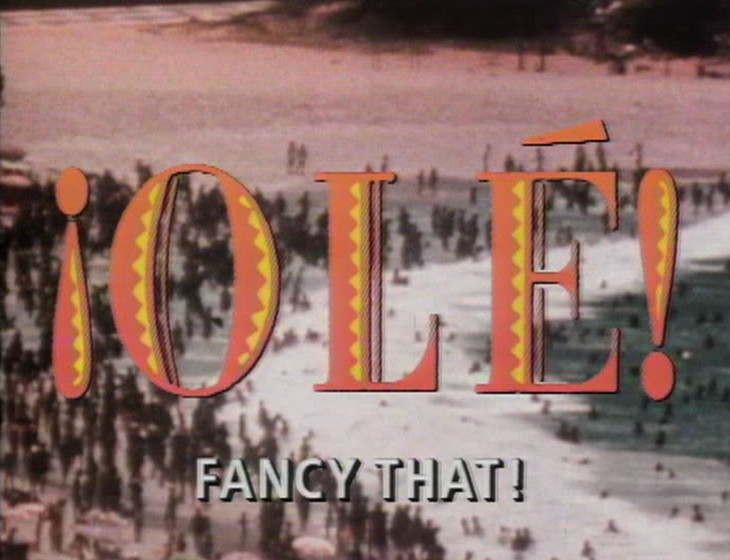 (16:57) Oddly enough, there is no introduction in the script to our favourite Brazilian soap opera – presumably they originally thought we all got the gag by now. Nonetheless, one was added for broadcast, which is relatively amusing, but at this point rather superfluous. (I would have taken a smidge more Philip Percygoe instead.)
CHANNEL: Well, there can be very few television programmes that can boast seven international Emmy awards and three BAFTA nominations, and KYTV's Brazilian soap opera "¡Olé!" certainly isn't one of them. Nevertheless, now is your seventh and final chance to see today's episode, tran-dubbed and slated as ever, by KYTV.
As only two of the usual characters are in the sketch, the script mentions:
SAME TITLES BUT WITH ONLY JOSE TORRES AND CARLOTTA CASTELLA CREDITED
But in the final episode we get the full set of credits with all four characters listed. This probably makes more sense, to be honest – do we really think a station as cheap as KYTV would spend the money to make a different set of credits for each episode?
As for the sketch itself… while the same basic structure is the same, all of the best jokes are missing. Here's the entire script:
EDUARDO'S FLAT

EDUARDO: Pregnant?… Holy shit… Are you sure?
VO: Pregnant?… Well how lovely… You're quite sure?

MARIA: I went to the doctor's today.
FVO: I went to the doctor's today.

CLASPS DRINK AND DOWNS IT IN ONE

MARIA: …It's definite.
FVO: …Gosh, I was thirsty.

PROFFERS BOTTLE

MARIA: Want some?
FVO: Drinkie?

EDUARDO SNATCHES IT FROM HER.

EDUARDO: You shouldn't be drinking like that. It's not going to do any use getting drunk, is it? Huh?
VO: Don't you think you ought to cut down a smidgeon, old girl? After all, you have been going at it rather. Ha!

MARIA: You haven't asked me, Eduardo.
FVO: You know there's one question you haven't asked me yet.

EDUARDO: Asked you?
VO: What's that, petal?

MARIA: Whose baby it is.
FVO: Well, if you're the father or not, silly!

EDUARDO: (ANGST) You mean it's not my child?
VO: (LAUGHING IT IN) I sort of thought it was mine somehow!

MARIA BURSTS INTO TEARS
FVO BURSTS INTO LAUGHTER
MARIA COMPOSES HERSELF

MARIA: Sorry… No, Eduardo, I have to tell you the truth.
FVO: …Sorry… No, I'm afraid it's not, Bertie-poo.

EDUARDO HURLS BOTTLE AT THE WALL
FX – INAPPROPRIATELY SMALL CRASH

EDUARDO: Shit!… So it's Paulo's child?
VO: Oh bother… (LOVELY THOUGHT) So is it Reggie's, then?

SHE REACHES FOR ANOTHER BOTTLE
HE GRABS HER HAND AROUND THE BOTTLE NECK

EDUARDO: No… don't do it… don't drink another drop.
VO: No… let me… put it away for you. (WRESTLES BOTTLE FROM HER)

MARIA: No, I need it!
FVO: Bless you, dear.

PUTS IT HIGH OUT OF REACH

EDUARDO: Does Paulo know?
VO: So have you told Reggie?

MARIA: I don't want him to know.
FVO: No, I don't think I'll bother.

EDUARDO: Why, Maria, why?
VO: Why ever not, old girl?

DROPS TO HER KNEES BESIDE HIM

MARIA: Because I love you, Eduardo, I love you.
FVO: Well, I rather thought it would be fun if you could be the father, what?

SLAPS HER ROUND FACE

EDUARDO: How could you think of such a thing?
VO: Well, I'll certainly think about it.
And here's the sketch as transmitted:
So many of the best things in the sketch aren't in the script: Witch Doctor/Which Doctor?, the whole Maria being the father confusion, the inappropriately large crash as the bottle goes into the bin, and the mumbled Portuguese from the translator at the end. This scene certainly sees the biggest change between script and screen of the lot. (Considering the nature of the sketch, it's tempting to suggest – in true Peep Show style – that at least some of this is rewriting done during the final dub.)
---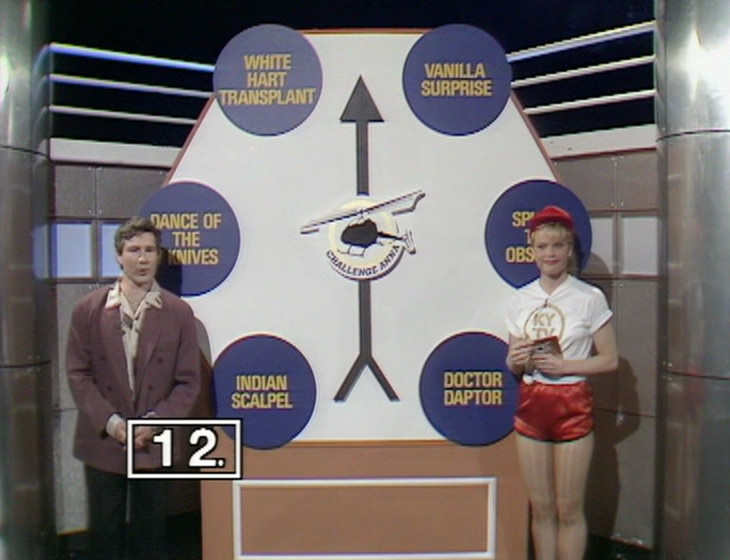 (19:20) Hooray, it's time to…
# Spin the Wheel,
Spin the Wheel…
Spin the Wheel! #
A few interesting changes here. Again, the script has Mike Flex spinning the wheel; the broadcast version has… Debbie, in yet another additional role for her. (Yet again, the script doesn't even have her in the scene at all.)
Meanwhile, one of the options on the wheel is different in the script: "Up Up and Away" is nowhere to be found on the broadcast version. Instead, "Doctor Daptor" is lurking away at the bottom. More on this later…
Finally, we get some additional dialogue concerning a couple of the options in the script, which was cut for broadcast:
CHANNEL: Well, a number of options it could land on: one of them would mean Anna would have to find a Red Indian surgeon to perform the operation…

FOCUS ON "INDIAN SCALPEL" SECTION OF WHEEL

CHANNEL: Another there forcing Anna to have the operation carried out in the middle of a first division football ground.

FOCUS ON "WHITE HART TRANSPLANT"

CHANNEL: …but it looks like it's coming to rest on… "VANILLA SURPRISE"!
The script also has the stage direction "DONOR MOUTHS OBSCENITY"; the broadcast version just has him come out and say "Bollocks!". I prefer the script here; I can't help but feel the hint of a stronger word might have been funnier.
---
(20:23) Not a major thing, but I do feel the need to point out that Martin singing "Ging Gang Goolie" is nowhere in the script. (Frankly, it has all the hallmarks of something improvised on location.)
Oh, and the guy that Martin nearly crashes into was supposed to be driving a 2CV. Presumably, that was deemed more trouble than it was worth.
---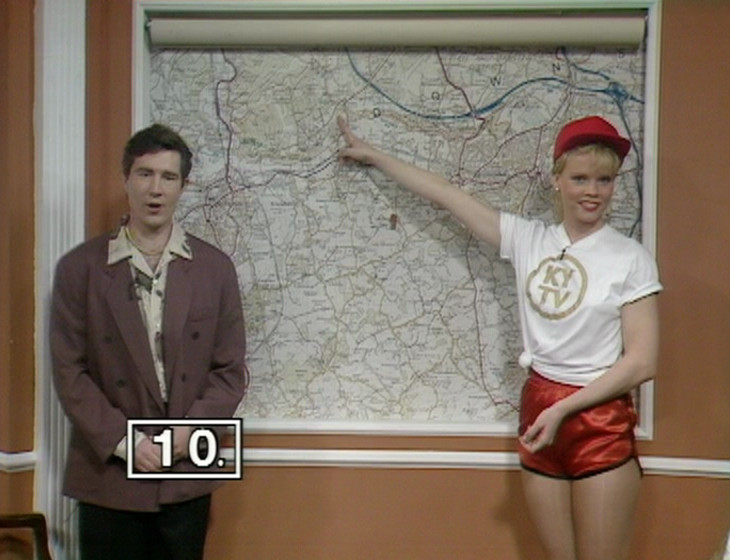 (20:58) Back in the Map Room with Mike… and more bonus Debbie, who yet again isn't even mentioned in the script. Here, she expertly does Mike's map pointing work for him. Well done, Debbie.
Also missing from the script: the visual gag of the second, smaller scale map being pulled down in front of the first.
Oddly enough, the script has Flex start by saying "So after 10 minutes then…". Even taking into account some of the scenes being rearranged, that clearly isn't true even in the script: we're far further into the show than that. The broadcast version corrects this to "So, with only minutes to go then…"
Finally, the script has a bit more about what Martin Brown is up to from Flex, which the broadcast version trims:
FLEX: And Martin is here… [POINTS TO EUROPE] going at twice the speed but in the opposite direction… that is unless he's intending to circumnavigate the globe and approach from the other side. Which I have to admit might not be entirely out of the question.
So, the broadcast version corrects a continuity error, gives Debbie more to do, adds a great new visual joke, and cuts a load of blah. Perfect.
---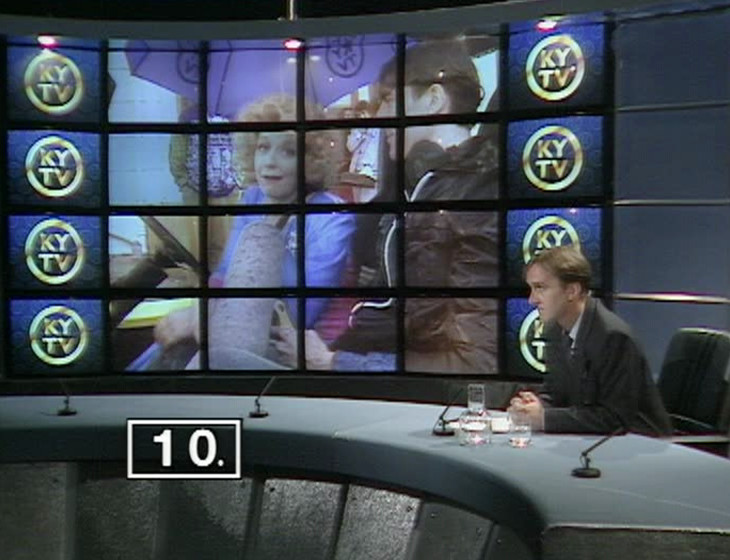 (21:11) This one is a real oddity. I have no concrete explanation for the following at all.
This is the scene where Anna doesn't want to get her hair wet, and so goes to hide in a wine bar. Let's take a look at the script first:
ANNA: I'm afraid I've been thwarted Mike.
CHANNEL: Oh dear… is it the ice-cream van?
ANNA: No Mike, it's started raining and I'm not going to get my hair wet.
CHANNEL: Er Anna… you've got ten minutes to find an ice-cream van and get him to the hospital.
And then let's take a look at the broadcast version:
ANNA: I'm afraid I've been thwarted Mike.
CHANNEL: Oh dear… is it the results of Dave's blood test?
ANNA: No Mike, it's started raining and I'm not going to get my hair wet.
CHANNEL: Er Anna… you've got ten minutes to get him to the hospital.
All the references to the ice cream van have been removed for the final version of the episode. And here's the weird thing: despite the script rearranging a few scenes, the ice cream van concept has been introduced in both the script and the broadcast version by this point. I can't see any reason why the script would be rewritten to remove that aspect of the show.
My wild stab in the dark, then: maybe the scene was rewritten to give them the maximum flexibility while editing, just in case they needed to shove the scene in before the Spin the Wheel section. But I'm scrabbling, and I really don't have much of a clue. (I'd be willing to bet you nobody on the production remembers why this was rewritten either.)
---
(21:29) It's been a while since we had a whole deleted scene, hasn't it? Time for another one. And this one is very funny indeed.
SCENE 28
STUDIO

STUDIO LINK UP WITH SURGEON

FLEX: Well joining us now from Birmingham is a surgeon who has performed this particular operation many times over… albeit on the same patient… Dr Samuel Samuelson.

COMES UP ON THE BIG SCREEN.
HE IS WEARING SURGEON'S OUTFIT SLIGHTLY STAINED. STANDING AGAINST GREEN CURTAIN.

FLEX: Doctor, with only 12 minutes to go – how would you think all this stress is affecting the patient?
DOCTOR: (Mike) Well, it really is quite important for him to remain as calm as possible. [MUMBLES ASIDE "GET SWAB"] And not to let the tension get to him.

HAND COMES IN AND MOPS BROW

FLEX: And what advice would you have for the donor?
DOCTOR: Well obviously there is a limited amount he can do. [ASIDE "LET ME HAVE THAT AGAIN"] [TAKES SOMETHING OOV] But with all the facilities [HOLDS SOMETHING DOWN] that medical science has at its disposal nowadays. [ASIDE "HOLD THIS FOR ME"] I can't see it being a problem.

SFX – PUTS INSTRUMENTS DOWN ON TRAY
WRESTLES WITH SOMETHING OOV
SFX – SLOPPY SOUND

…I would think it's all perfectly safe.

FLEX: Good, well many thanks – hadn't actually realised you were in the middle of an operation – but good of you to spare the time to talk to us.
DOCTOR: [BIT PREOCCUPIED] Not at all… Ooops!

DIVES FOR SOMETHING OOV

FLEX: Well I believe Martin Brown is still somewhere on the continent in his bid to track down the Royal Marplan Hospital.
There's nothing I don't love about that scene. Of all the deleted material from this episode, this is the scene I'd really love to see. Still, it's worth noting that if it had made it into the broadcast episode, the gore of the climax of the show would have had far less impact. Which means, despite being brilliant… it was probably a good cut. Dammit!
---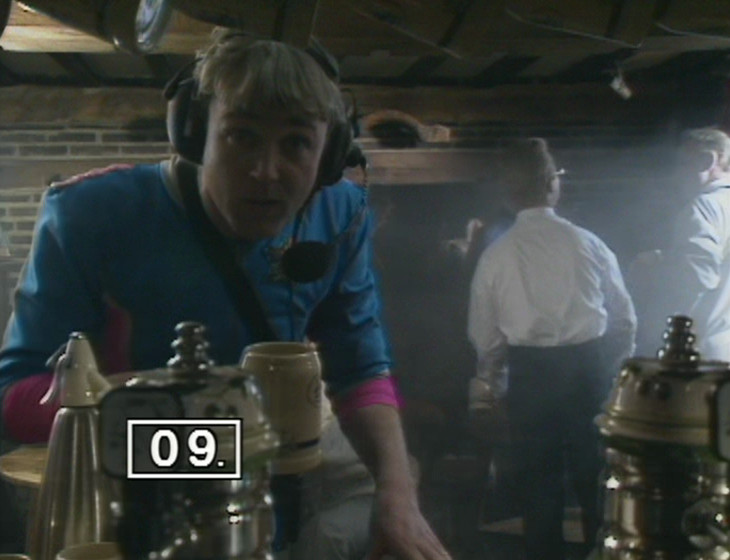 (21:36) A section chopped out of Martin's confusion with the waiter on the continent. (Incidentally, the script says the waiter should be played by Angus, which makes sense with his BA in modern languages; in the final episode, he's played by Phil.)
MARTIN: Peter, oh, hello, Peter. Oops, bonjour Peter I mean.
MAN: Sind franzosisch?
MARTIN: Pardon?
MAN: Franzosisch?
MARTIN: Oh, Franz Osisch, sorry. Bonjour Franz… Monsieur Osisch.
MAN: Bitte?
MARTIN: Non, ce n'est pas Peter. C'est Martin Brown.
MAN: Sie mochten etwas, oder?
MARTIN: Soda?
MAN: Was?
MARTIN: Vase? Soda vase? Soda cyphon.
MAN: Sie sprechen deutsch?
MARTIN: Funny accent – can't understand him.
This edit is covered by:
DIRTY FEED PROUDLY PRESENTS:
A MIKE CHANNEL CUTAWAY USED TO DISGUISE AN EDIT
PART #3 OF 3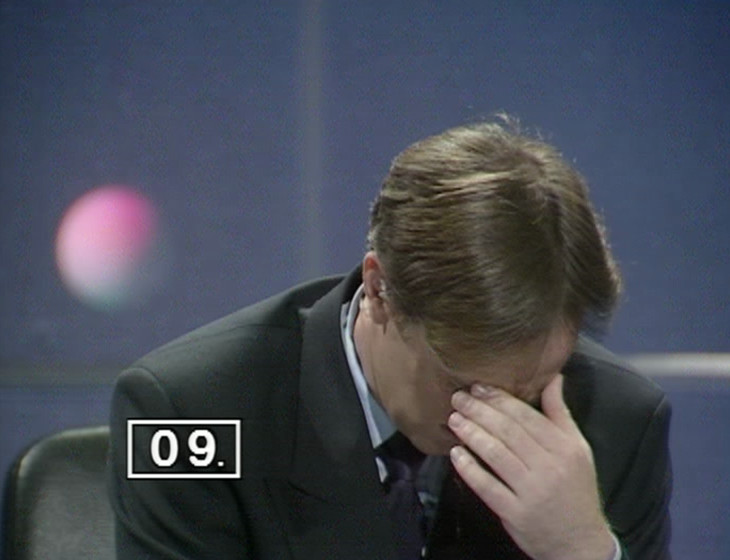 None of the above I particularly miss. Instead, we get a far funnier bit of business in the broadcast version, where Martin grabs Mr. Hartford's drip and pulls it clean out of his body with a comedy pop. (There seems to be a lot of extra business with all of Martin Fenton Stevens's location sections.)
---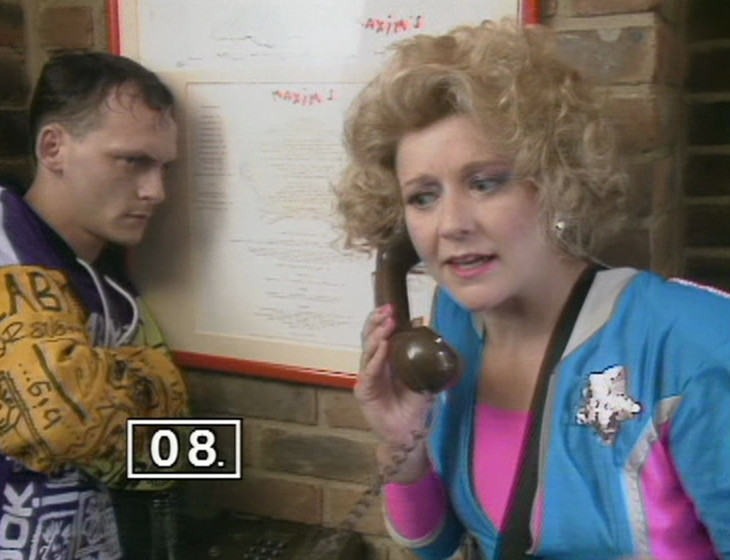 (22:30) Meanwhile, we cut to Anna Daptor calling Tony Blackburn. Except the script reveals that the original target for this was a certain… Noel Edmonds! The encounter proceeds with pretty exactly the same dialogue, however. The script does have an extra joke at this end of the scene, though:
CHANNEL: How are you getting on, Anna?
ANNA: Sorry Mike I've got some bad news for you.
CHANNEL: What?
ANNA: Hale and Pace have got another series.
I know it's a crap gag about Hale and Pace, but the sheer needlessness of this makes me laugh. If it was actually relevant to what was going on, it wouldn't be funny.
---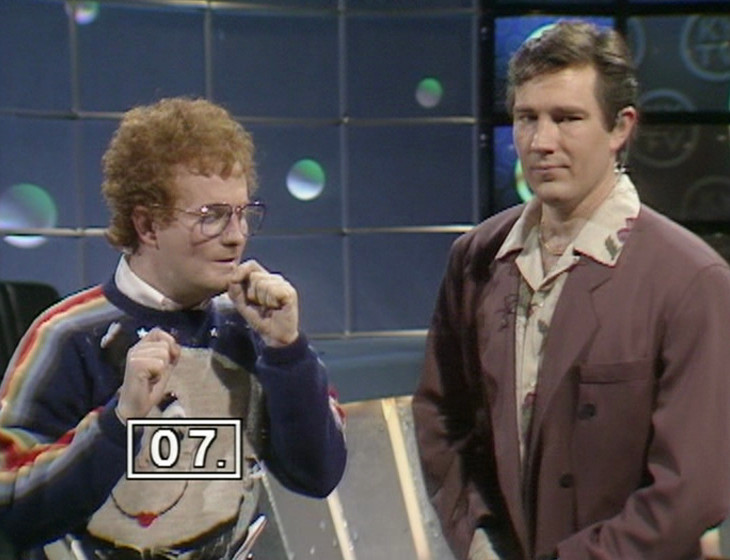 (22:57) More cut stuff with Dr Percygoe, and an object lesson in editing for comedy:
FLEX: So, Dr Percygoe, any advice on what to do when they reach the hospital?
PERCYGOE: (Phil) "Hospital." Now, let me see, I'm sure I've heard of that one before…
FLEX: Oh dear.
PERCYGOE: I'm sure I've sung a song about a hospital once…
FLEX: Well, while the doctor racks his brains of where he's heard the word hospital before, I gather it's stopped raining, so now maybe Anna will have ventured outside the wine bar.
Halfway through the scene, the joke is done, and Mike Flex's "Oh dear" is a very funny tagline. So the show gets rid of the rest, and cuts to the next scene. Technically, it's a bit of a jarring cut, but entirely worth it to tighten things up, and to give Perkins's final line more weight.
---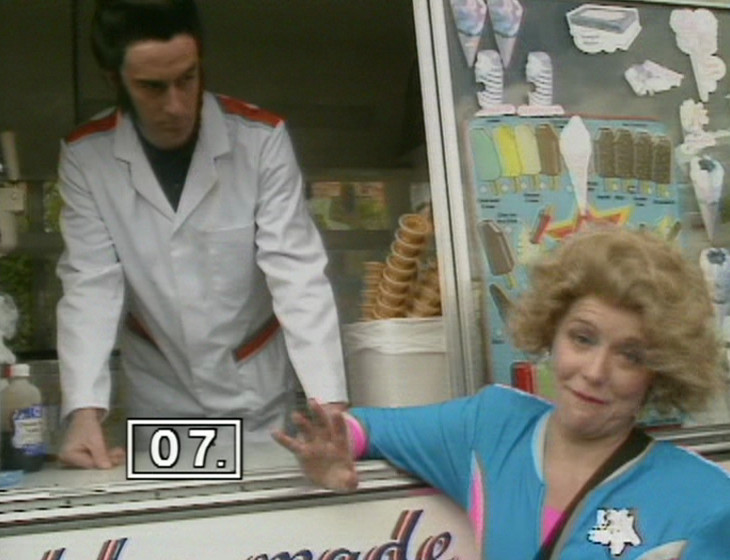 (23:07) Ah, Anna's encounter with a surly ice cream van vendor. And I would just like to point out that both in the script and the final broadcast version of the episode, Anna mentions that the Royal Marplan Hospital is "15 minutes away", despite there only being seven minutes left on the clock. This error means that this entire episode is rubbish.
There's also a tag to the scene in the script, cut in the final show:
ANNA: [ON FADE] There aren't any other ice-cream vans around, are there?
ICE CREAM MAN: Why, you wanna cone?
Yet another slightly weak tag, got rid of in the edit.
---
(25:12) Mike Channel's reverse directions have an extra joke in the broadcast version which isn't in the script:
CHANNEL: Right go down the hill… turn left and then it's a hundred yards from there…
CHANNEL: Right go down the hill… turn left, then right, and it's a hundred yards behind you.
---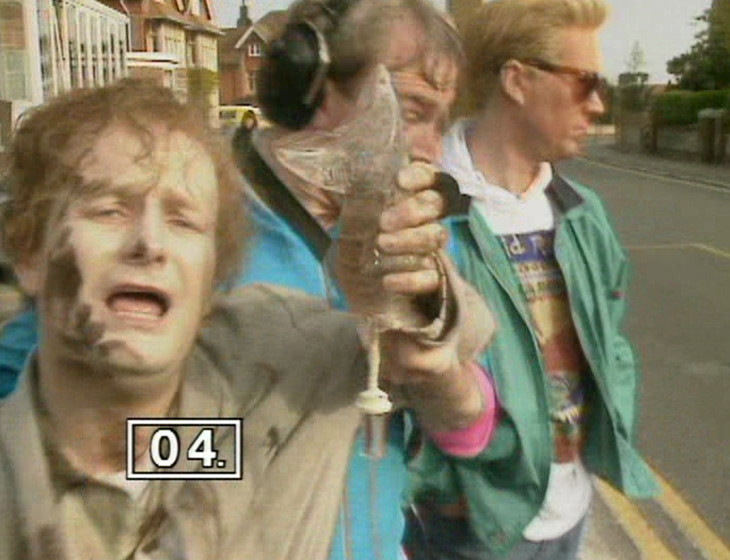 (25:32) And here, we can solve a mystery. When Martin is dragging Mr. Hartford down the street, in the background is a passerby – clearly played by Geoffrey Perkins. But oddly enough, we cut away before he says a single word. Why have Geoffrey there in the first place, instead of a normal extra?
Because he was originally supposed to speak:
FLEX: Good. Martin, you have to find the hospital.
MARTIN: Right Mike. Hi, how are you? I'm Martin from Anna's Challenge Programme.
PASSER BY: (Geoffrey) Sorry?
MARTIN: Never mind. Um, we're looking for The Royal Marplan Hospital. Can you help us?
PASSER BY: The Royal Marplan. Well if you go down here [POINTS CAMERA LEFT] turn first right, then take the third turning on your left, over a mini roundabout, turn right after the traffic lights, then right again immediately, then follow that road for a couple of miles and you come out just here. [POINTS TO HIS RIGHT]
MARTIN: And where's the hospital?
PASSER BY I dunno, mate.
MARTIN: Thank you very much.

PASSER BY WALKS AWAY TO REVEAL HOSPITAL AND SIGN RIGHT BEHIND HIM. MARTIN STARTS FOLLOWING HIS DIRECTIONS.
Again, this feels like a wise cut: we've probably had enough jokes about Martin getting lost by this point.
---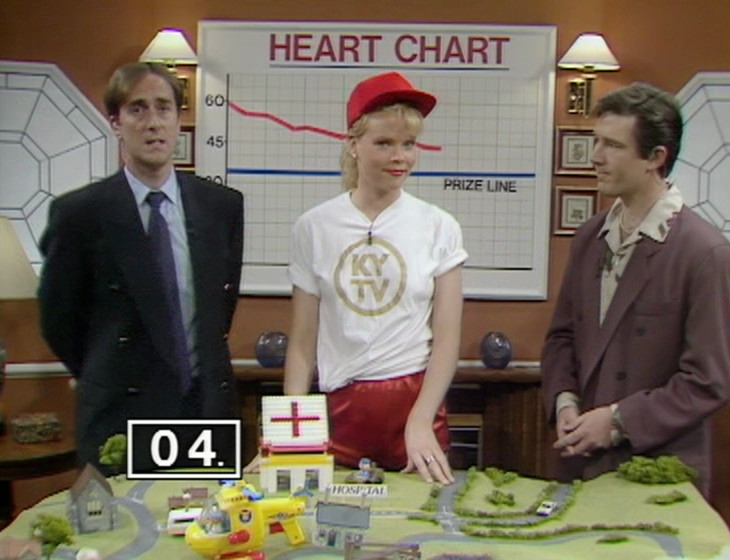 (25:44) Oh, now, this is exceedingly interesting. Up until this point, the broadcast version has had the odd extra line or joke in which is missing from the script. But this is the only time an entire scene has been added. And it involves KY Dolly Debbie, and serves as the punchline to all her additional material throughout the episode:
CHANNEL: So, with seconds to go, and with Martin and Anna finally at the hospital, let's find out exactly where they both are.
DEBBIE: They're both at the hospital, Mike.
CHANNEL Er… yes. And where's that, Debbie?
DEBBIE: Dorking.
CHANNEL: Spendid. And what can you tell us about Dorking, apart from the fact that it begins with "D", ends in "G", and presumably has a couple of discos in it?
DEBBIE: Well, it's built in igneous rock and was first colonised by the Romans in 52BC, when it was christened Urbs Pulcher. It became a major urban conurbation after the enclosure act, and it's industrial infrastructure…
CHANNEL: Er, yes, fine. Thank you, Debbie.
DEBBIE: Oh, and it's got two discos.
CHANNEL: Right. Well, let's go back to Martin who, I gather, has excitingly reached the hospital where he was… two minutes ago.
All the extra Debbie stuff throughout the episode are some of my favourite bits of the show. And it's worth noting that huge chunks of already-shot location material featuring the main KYTV cast was removed, in favour of all these extra bits with Debbie. For a comedy team with four men and one woman, increasing a female guest character's role and making it into a joke subverting the dumb blonde stereotype was definitely a smart move. It helps the show tremendously.
At the front of the script draft we've been referring to, it's revealed that Debbie hasn't been cast yet; Sara Crowe ended up playing the part. It's worth pondering whether this extra material was written before she was cast, which is why they chose someone good… or after, when they realised they were in danger of wasting her.
---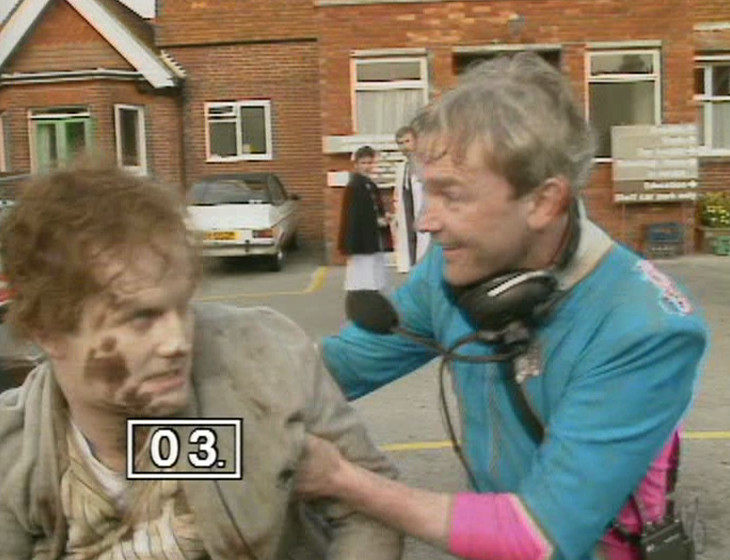 (26:23) Up for yet another entirely deleted scene? Well, nearly entirely deleted, anyway…
SCENE 37
FILM

MARTIN'S ON THE SPOT INTERVIEW

MARTIN AND MR HARTFORD APPROACHING HOSPITAL
MR HARTFORD SOAKED AND DRAGGING HIS FEET
MARTIN DECIDES TO DO AN ON THE SPOT INTERVIEW

MARTIN: Let me just stop you here then and ask you what in fact is the problem with your spleen?
MR HARTFORD: (Phil) What? Well, it's ruptured isn't it? Now can we…?
MARTIN: I see and how exactly did that happen?
MR HARTFORD: I told you!
MARTIN: But for the cameras if you wouldn't mind. How exactly did that happen?
MR HARTFORD: I was in a bicycle accident. Now can we…
MARTIN: I see. And what sort of bicycle was it then?
MR HARTFORD: I don't know, an ordinary pushbike.
MARTIN: An ordinary pushbike, yes. And so in what way does this injury inhibit you?
MR HARTFORD: It severely restricts my patience. Now can we please…?
MARTIN: Oh that's very interesting, and how does that manifest itself?
MR HARTFORD: Like this… [THUMPS HIM]
Yes, the only thing left of this interview in the final episode is Mr. Harford punching Martin before running into the hospital. And so now you have an explanation for the sudden punch, and why Mr. Hartford finally loses his patience.
Although I have to say, I think the way the final episode plays is far better. You don't need the explanation; cutting to the punch is funnier.
---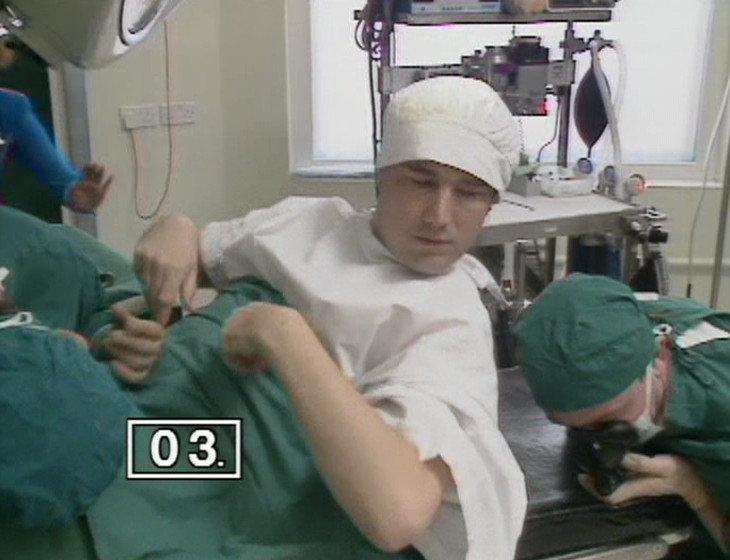 (26:42) Anna walking into the wrong operating theatre goes pretty much as scripted. However, there is one detail which is present, but a little lost in the final episode, and is funnier in written form:
PATIENT SITS UP, LOOKS AROUND, SEES THERE'S NO-ONE TO OPERATE ON HIM, PICKS UP A SCALPEL AND STARTS TO…
CUT BACK TO STUDIO
---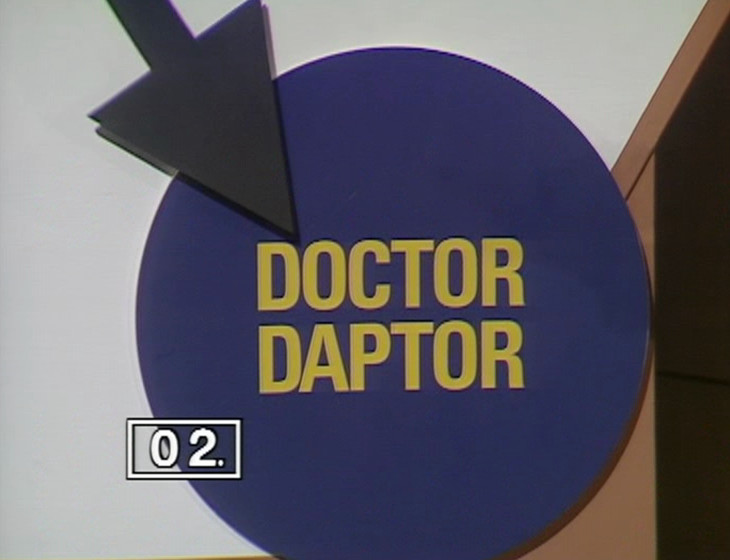 (27:26) Ah, our final
#Spin the Wheel,
#Spin the Wheel…
#Spin the Wheel! #
segment.
The script for this goes as follows:
JINGLE: SPIN THE WHEEL

[NB: "Vanilla Surprise segment now replaced by "Doctor Daptor"]

FLEX: And what parting shot is the deadly dart going to deliver this time?

POINT RESTS AT "DOCTOR DAPTOR"

FLEX: It's Doctor Daptor, Anna.
In the final show, they never bother changing the categories on the wheel, and DOCTOR DAPTOR is there from the start. Which means you can guess what the finale of the show is going to be, if you're of a mind.
Oh, speaking of the finale… we're nearly there, aren't we?
---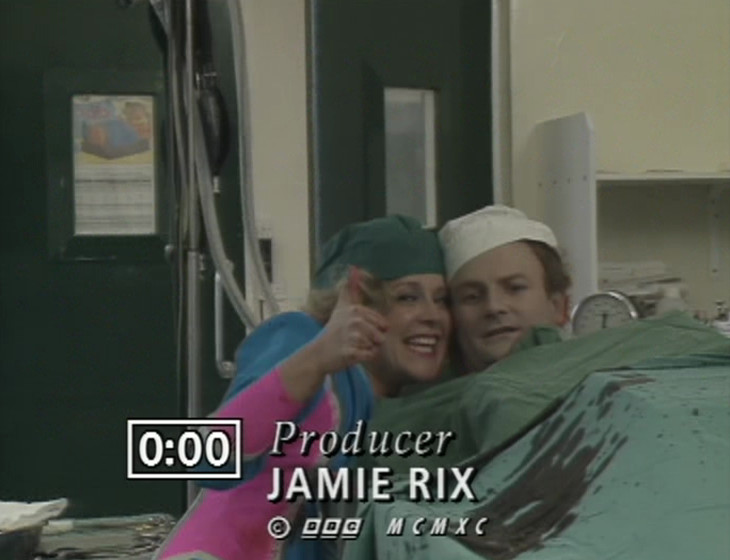 (27:43) Yes, it's the blood-soaked climax to Challenge Anna. And it all goes pretty much as scripted, although Martin rushing out to vomit copiously isn't in the script. What is in the script, however, is the following tagline from Dave the Donor, cut from the final show:
CUT TO BLACK SCREEN.

IN DARKNESS IS HEARD:

DAVE THE DONOR: Where are my bloody Michael Jackson tickets, then?
In the final episode, of course, his prize is actually "a night out at the Poco Poco Club in Stockport". Either way, it's a bit of a lame gag, especially for the climax of the episode, and was rightly cut. Especially when the broadcast show has a funnier joke to add…
---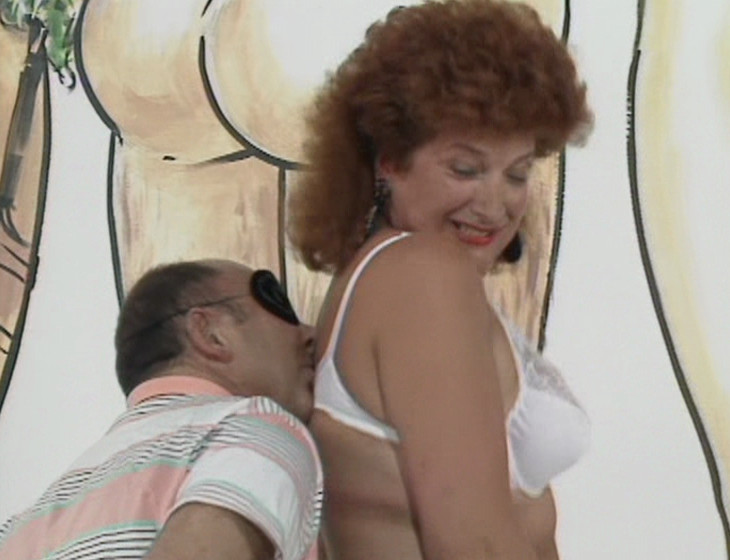 (28:51) The section with the announcer giving his congratulations to Mr. Hartford and commiserations to Mr. Saunders is also more or less as scripted, although in the script it's intended to be a VO over photos of both patients, rather than in vision. But there's one final gag in the finished episode which isn't in the script…
ANNOUNCER: And now on KYTV, it's the final round of… Geeeet 'Em Off!

CUT TO A SINGLE SECOND OF MAN TRYING TO REMOVE WOMAN'S BRA WITH HIS TEETH
And if that isn't a rewrite deserving of some kind of award, I don't know what is.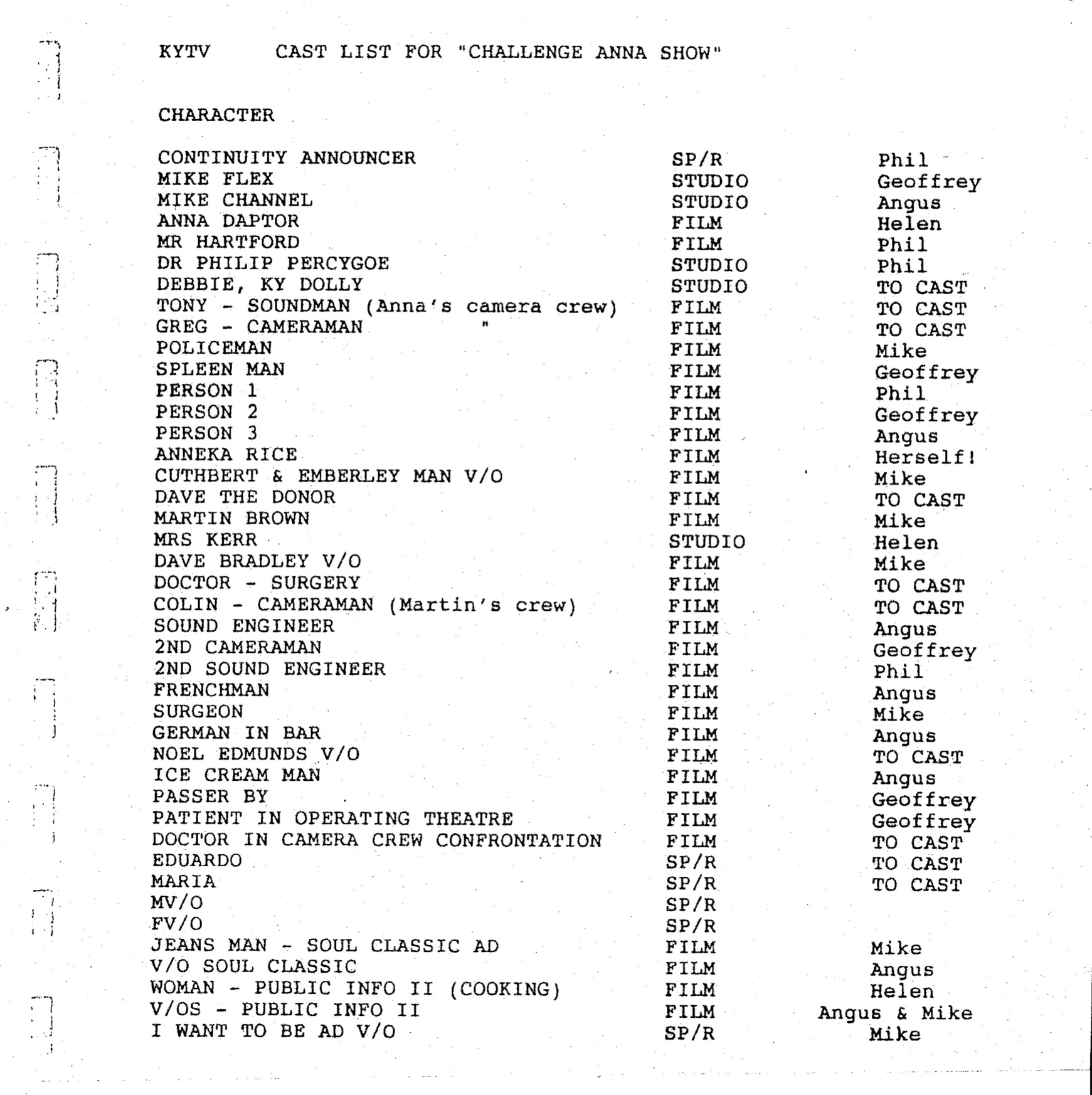 So, what have we learnt with this little exercise? Well, we've learnt that Anna Daptor checks her restaurant bills very carefully. We've learnt that Martin Brown gets his eyes and his ears confused with each other. And we've learnt that Mike Channel is embarrassed to be in the same studio as Mike Flex.
But most of all: what I've come away with from writing this is a great deal of respect for the edit which brought KYTV to the screen. While it's inevitable that there are some funny moments removed, the heart of the show remains intact. And time and time again, the show cuts the extraneous stuff – repeated jokes, unnecessary setup, boring links – and keeps the good gags. The show knows exactly when it needs to keep the pace and the jokes going, and when the audience will join the dots themselves and don't need the linking material.
Though I must admit… I still kinda wish they'd pulled that prank on Anneka Rice for real.
With many thanks again to Darrell Maclaine-Jones for the script and some helpful suggestions. Thanks also to Charlotte Fletcher for her encyclopaedic knowledge of Radio Active, Lombard Wall for more Radio Active help, Tanya Jones for taking on the role of editor, and Duncan Newmarch for general advice and encouragement. Any errors remain my own, of course. Don't take away something I'm good at.
---
As my partner has just pointed out to me: "He's basically Hennimore, isn't he?" ↩

Incidentally, what's the betting that it's actually dry ice in those pans, rather than boiling water, considering how close they actually have to get to a small child? ↩

Incidentally, this section – along with the etymology for "Turkey" – is taken more-or-less verbatim from the Radio Active episode Radio Active's Christmas Turkey (TX: 20/12/83), albeit read by Mike Channel rather than Flex. This explains why two of the definitions in Challenge Anna are related to Christmas, which is a little odd when you think about it. This material also shows up in print form in The Utterly Utterly Merry Comic Relief Christmas Book. ↩