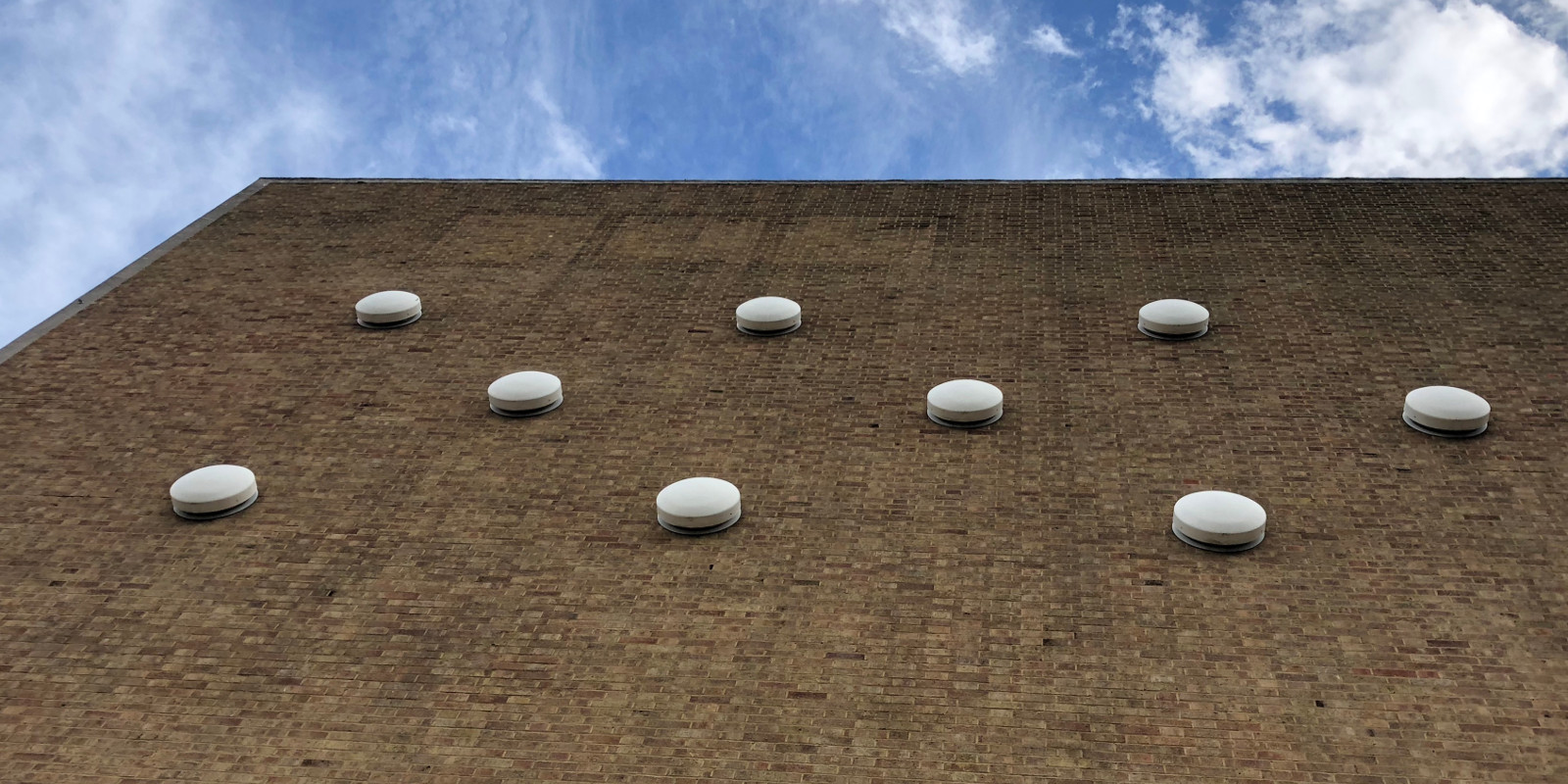 On the 30th July, I went to see The Lenny Henry Birthday Show recorded in TC1 at TV Centre. The following are a few notes from the experience. Nothing too spoilery, if only because my brain has an innate capability for forgetting the funniest of jokes precisely 10 seconds later.
This was the first time I've been to TV Centre since, yes, let's call it a redevelopment, as we don't want to get too unpleasant too early. Now in the old days, you'd admittedly have to queue up outside exposed to the elements… but eventually, you'd be brought inside to a lovely audience foyer, where you could sit down, buy a drink, and go to the toilet at your leisure.

Now? You queue up outside, and once your ticket is checked, you're… erm, lined up outside against the wall of TC1, and have to wait in a holding pen. You are allowed to squeeze past the rest of the audience and go to the toilet, but other than that, you're standing up until you're allowed to enter the studio. No drinks, no seats – just stuck outside in the sweltering heat.

Don't get me wrong, the actual BBC staff were lovely (and unfailingly polite) – I'm not criticising them here. My criticism is with the oafs who redesigned TV Centre, and failed to duplicate the audience facilities which were already there. It's difficult to interpret this in any other way other than the people in charge not giving a damn about what is required for audiences at all.

TV Centre used to be the best place to go and see recordings, because it had actually been designed with audiences in mind. Now it's among the worst.

Warm-up was Nathan Caton. I'm hard on warm-ups, and he didn't blow me away I'm afraid, but he was certainly confident and not flailing around too much, unlike some awful experiences I've sat through. He got a pretty good reaction from the audience.
I won't spoil the opening VT, but let's just say that if you have a vested emotional interest in TV Centre still being seen on telly, you'll enjoy it. (It is also this: funny.)
Studio setup was as follows. A (minimalist) set on the far left, for a sketch. Another (also minimalist) set on the far right, for another sketch. And in the centre, a stage for the main event: an interview with Lenny Henry by Trevor McDonald.
The interview itself was fantastic: talking about Lenny's whole career, and was not only informative, but really really really really funny, with plenty of moments where the interview had to stop for the audience to recover. If it comes out in the edit the way it was in front of the audience, it'll be one of the most entertaining things the BBC will show all year.
I have to say, though: at times, Trevor McDonald made rather an uncomfortable interviewer; cutting off Lenny in his prime just as he was about to say something interesting, in favour of asking a different question entirely. Might I suggest that Sir Trev is best at interviews where he's trying to get the interviewee to talk about something they don't want to talk about, rather than an entertainment interview where the person has already opened up?
Some of my favourite moments of the night were Lenny teasing Trevor; I hope at least a couple of those make it through to the final edit, as they were highly amusing.
At one point, Lenny said the n-word, in the context of a famous Conservative election slogan. He then stopped, and predicted immediately that it would be cut out. Let's see if it is or not…
There was a weird bit where Trevor McDonald threw to a VT about Lenny's early years, and we all sat back expecting a clip of the real Lenny Henry… only for it to start with clip from Danny and the Human Zoo instead, Lenny's fictionalised portrayal of his life. I can't help but feel this might be recut in the edit somewhat.
Here's something interesting: I had a good view of the autocue, and it was interesting to see how it was used for a supposedly off-the-cuff interview. It wasn't just Trevor's questions on there: sometimes huge chunks of Lenny's answers and routines were on there verbatim. At other times, the autocue merely gave rough notes for the vague kind of answer Lenny planned to give, and interview didn't stick rigidly to what was on the autocue anyway: it often went off at tangents, and you could desperately see the autocue operator scrolling down to find an appropriate place for the conversation to rejoin the scripted stuff.
After the interview was over – which took around an hour and a half – the warm-up told us that if anybody needed the toilet, now was the time to go. Cue half the audience standing up, and the swift realisation that as there were only six cubicles available, it would delay the recording far too much to allow all these people to go, and people were then told to stay in their seats.

At sitcom recordings, you can allow people to go to the toilet between scenes, let them miss one chunk while they go, and everything is OK. You run into more problems with an hour an a half interview, all recorded at once. Though I would also suggest that having better toilet facilities would have helped. But that's what happens when TV studios are designed with a load of bars next to them, rather than the actual facilities which might be needed, isn't it?

OK, here's my main complaint of the night. After the interview, while waiting for people to return from the toilet, they played in some VTs to record our reaction. And – unlike every other studio audience recording I've been at – they didn't turn the audience lights down while they did it. Doing this is vital: it sets the mood, indicates to rowdy audience members to shut up, and most importantly, lets you see the goddamn screens properly. This wasn't just a one-off mistake, either – it happened more than once. It felt like trying to watch the sketches in your living room while the rest of your family is blathering on in the background.

Even worse, some of the crew members kept walking in front of one of the monitors while we were watching the material, which is incredibly rude, and just makes it look like they thought we were a nuisance, rather than an essential part of the show. Has studio discipline with this stuff completely gone out of the window these days? This was really, really, really bad – and completely avoidable. It gives the distinct impression that some production teams are forgetting how to record shows with an audience.

One of the clips played in to us was Lenny's parody of the Thriller video, and the thing which struck me: man, the sheer money the BBC used to throw at comedy. It looks like nothing the BBC would ever make now. I've had similar feelings during the French and Saunders watch I'm doing at the moment, and it makes me sad.

Here's an odd thing: the programme seemed fairly light on clips of Lenny's old stuff; I think they could have used an awful lot more of it. In fact, it wouldn't surprise me if the final show uses significantly more stuff than we actually saw. For instance: we saw no Theophilus P. Wildebeest material at all.

We then had two sketches recorded in front of us, the details of which I won't spoil. Impressively, they were recorded virtually in one take, with the odd minor pick-up as they were recording, and the occasional prop change during one sketch to simulate the passing of time. This is in sharp contrast to a lot of recordings I've been to, and is to both Lenny Henry and the whole production team's credit. (See, I can be nice. Sometimes.)
On the negative side, an autocue was used for at least one of the sketches… which, for some reason, was turned directly towards the audience, spoiling the first part of the sketch. I let this go during the interview – it was less important, and with the way the cameras were set up, perhaps there was no way of avoiding us seeing the autocue – but here, there was not even an attempt at hiding it. Why spoil the opening of your sketch?
Interestingly, one sketch involved a complex bluescreen setup, involving cutting between three different backgrounds live. I thought it was quite impressive they bothered to record that sketch in front of an audience, rather than chickening out and just doing it as a pre-record.
One final thought on the two sketches: one sketch was correctly shot in beautiful 50i, and the other – a film parody – was shot in 25p. This is entirely the correct way of doing things – choosing your shooting style based on the material – and it boggles the mind that so many sketch shows don't seem to understand this. Kudos to whoever directed the show for this one.
Finally, a note on timings: we started queueing up at 4:45pm, and there were already loads of people waiting. They started checking tickets at 5:15pm, and we were sitting in TC1 at 6:15pm. The show started at roughly 7pm, and we were finished around 10:15pm. TOP TIP: if this sounds like a nightmare, radio recordings are your friend.
The Lenny Henry Birthday Show will be broadcast on BBC One at the end of this month. I had some reservations about the recording, but from what I saw it looks like the actual programme itself should be well worth a watch.
That guy sitting behind me at the recording, though. A word to the wise: I've come to hear Lenny Henry talking. Not you. You twat.