"Our biggest struggle after filming the pilot was cutting it down to time. We were something like six minutes long, which is a lot. We cut and cut and cut some more. We cut things we liked and we cut things we loved. Still, after 6 or 7 passes at the show we were still a minute long. We felt we had cut it to the bare bones. Any more cuts could damage the show so we went to Paramount with our dilemma. Thankfully, they agreed with us and asked NBC to give us some extra time. After viewing what we hoped would be our final cut, NBC agreed to give us that extra minute which was a very big favor. So, how do they come up with that extra minute of programming time for us? Don't think that all they have to do is cut a commercial or two. Are you crazy? That's money. No, to give us that extra minute, they asked the three other comedies and one drama on that Thursday night to each cut 15 seconds out of their programs. It's not something that's done very often and it's not something the network likes to do, but for that pilot of Frasier they felt it was worth it."

— How Frasier Came To Be (Part 3), Peter Casey, December 2006
Six minutes, cut out of one of the best sitcom pilots ever made? Oh, man, wouldn't it be amazing to see what was cut? But I guess we'll never find out, unless there happens to be a script of the pilot hanging around online anywhere…
…oh, hello. Marked "REVISED FINAL DRAFT", and dated April 29th 1993. Let's dig right in.
Material which is only in the script is indicated like this; material which is only in the episode as broadcast is indicated like this. I won't detail every single difference in phrasing between the script and the final show, minor trims to dialogue, or every change in staging, but all major differences will be noted.1
(00:00) Unused opening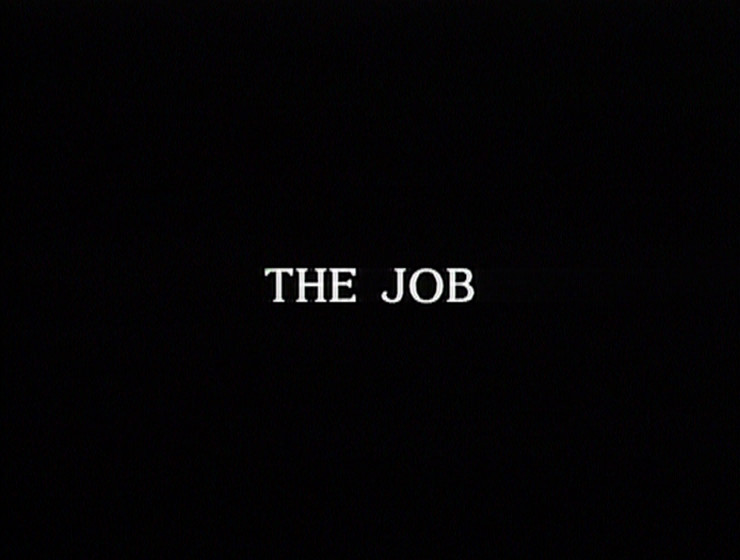 The script contains an entire unused opening montage for the show, all marked "TO BE SHOT AT A LATER DATE" by a second unit. (Notably, the cast list is blank for all these listeners, indicating they hadn't even been cast by the time the script was finalised.)
A BLACK SCREEN. IN WHITE LETTERS APPEARS "THE JOB."

MAN #1 (V.O.): I'm a long time listener, first time caller. My problem began when I…

FADE IN:

INT. CAB – DAY

A CABBIE IS LISTENING TO HIS RADIO.

WOMAN #1 (V.O.): I don't know him anymore. It's like living with a stranger. Take yesterday…

CROSS FADE TO:

INT. KITCHEN – DAY

A MESSY KITCHEN. A FRAZZLED HOUSEWIFE AND A SCREAMING INFANT IN A HIGHCHAIR. THE RADIO IS ON.

MAN #2 (V.O.): At least I thought I had a normal childhood. Aw, hell, who knows what's normal anymore. I…

CROSS FADE TO:

EXT. PARK – DAY

A MAN JOGS IN THE PARK. HE'S LISTENING TO HIS WALKMAN.

WOMAN #2 (V.O.): (BLUBBERING) I'm sorry, I thought I had this under control. I, I, I… Give me a minute.

THE JOGGER ROLLS HIS EYES.

CROSS FADE TO:

EXT. NEWSSTAND – DAY

A NEWSSTAND, FEATURING A PORTABLE RADIO NEXT TO THE CASH REGISTER. A COAT HANGER IS USED AS AN ANTENNA.

WOMAN #3 (V.O.) (THICK MIDDLE EASTERN ACCENT) I tell him, "I'm a human being. I'm a human being. You can't treat me like a dog." You've got to help me, Dr. Crane.
From here, we transition to the opening scene with Frasier in the radio studio, as per the broadcast episode. In retrospect, it's not surprising this was cut, as it seems pretty superfluous. More like the kind of thing you might do for the opening credits of a film than a sitcom.
The big question for me is: was this sequence ever actually filmed? The statement that six minutes was cut out of the pilot seems to indicate that it was; however, if it was all to be shot at a later date, and the studio recording already came in over time, why would you ever bother shooting all this in the first place? (The commentary to the episode mentions this cut opening scene, but doesn't confirm whether it was ever filmed.)
(00:23) A rut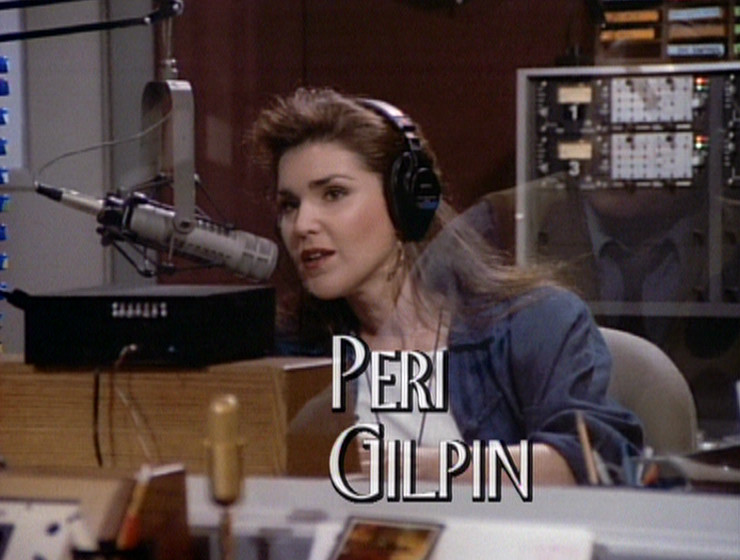 A single line from Roz:
FRASIER: Roz, do we have time for one more?

ROZ SPEAKS INTO THE MICROPHONE IN THE BOOTH IN A SOOTHING RADIO VOICE.

ROZ: Yes, Dr. Crane. On line four we have Russell from Kirkland. He feels like he's caught in a rut.

FRASIER PUSHES A BUTTON ON THE PHONE.

FRASIER: This is Doctor Frasier Crane. I'm listening.
I won't be detailing every single trim like this, but I point this one out because it explains why we cut back to Frasier very quickly after Roz says "Russell from Kirkland". Once you know the edit's there, it's very obvious. They were so tight for time that they really were trimming every single possible line.
(1:08) Monologue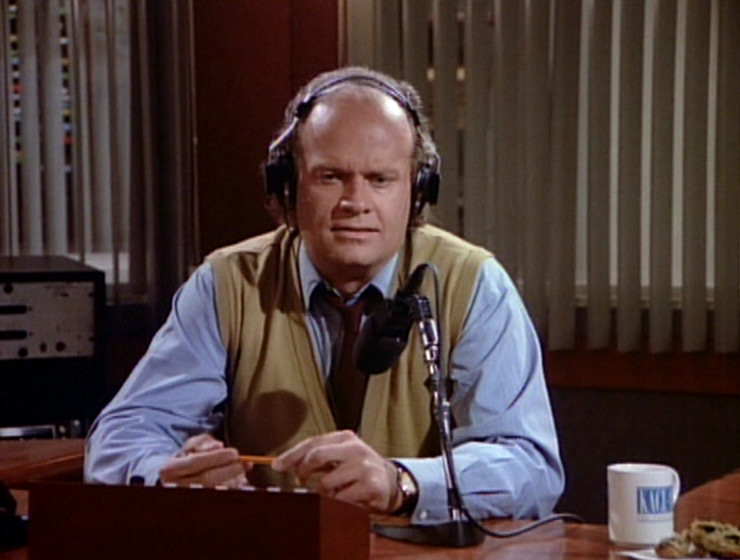 A cut section from Frasier's expositional monologue:
FRASIER: Russell, we're nearing the end of our hour. Let me see if I can cut to the chase by using myself as an example. Six months ago I was living in Boston. My wife had left me, which was very painful, then she came back, which was excruciating. I thought I could forgive her indiscretion but there was this nagging little hint of resentment, this minute lack of trust, this overwhelming desire to shove a grapefruit in her face. On top of that, my practice had grown stagnant and my social life consisted of hanging around a bar night after night. Suddenly I realized I was clinging to a life that wasn't working anymore. I knew I had to do something, anything. So I put an end to the marriage and moved back here to my hometown of Seattle. Go Seahawks! I took action, Russell and you can too. Move, change, do something. If it's a mistake, do something else. Will you do that, Russell? Will you? Russell?
The edit is disguised by a cutaway to Roz. I don't really miss the cut line much itself, but it would have been nicer to stay on Frasier for the entire monologue.
(2:46) Café Nervosa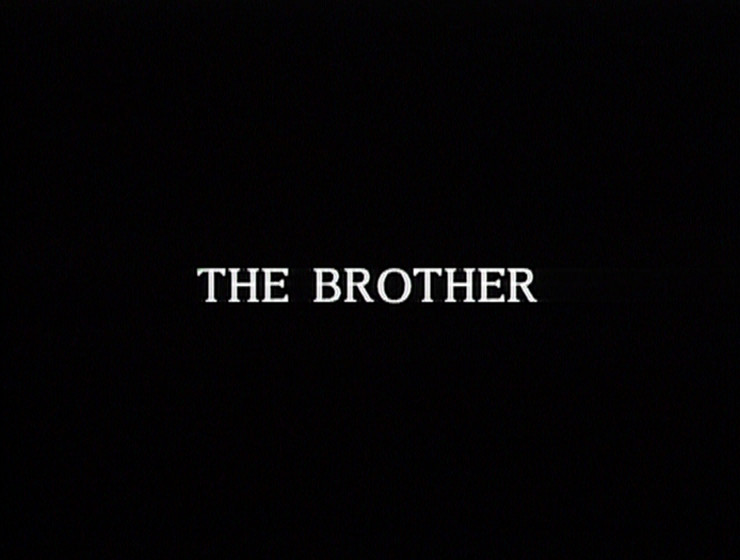 Continuing the cut second unit stuff, a location shot of Café Nervosa is gone:
A BLACK SCREEN. IN WHITE LETTERS APPEARS "THE BROTHER."

NILES (V.O.): So I said to the gardner [sic], "Yoshi, I do not need a Zen garden in my backyard.

FADE IN:

EXT. SEATTLE STREET – DAY – DAY/1 – 2ND UNIT
(Niles (V.O.))

A CITY BUS IS STOPPED, PICKING UP PASSENGERS. ON THE SIDE OF THE BUS IS A LARGE ADVERTISEMENT. ON IT IS FRASIER'S SMILING FACE AND THE WORDS "DR. FRASIER CRANE. HE LISTENS. KACL – 780 AM." THE BUS PULLS AWAY TO REVEAL "CAFE NERVOSA," ONE OF SEATTLE'S POPULAR COFFEE HOUSES.

NILES (V.O.): If I want to rake gravel every ten minutes to maintain my inner harmony, I'll move to Yokohama."

CUT TO:

INT. COFFEE HOUSE – CONTINUOUS – DAY/1
(Niles, Frasier, Waitress, Extras)

FRASIER AND HIS BROTHER, DR. NILES CRANE, STAND AT THE COUNTER. FRASIER HAS HIS NOSE IN A MENU.

NILES: Well, this offends him so he starts pulling up Maris' prized camellias by the handful.
Much like the cut opening sequence, this seems rather superfluous. We already get that Frasier has a new career as a radio host: we don't need proof of it from buses and the like.
(3:42) Dusting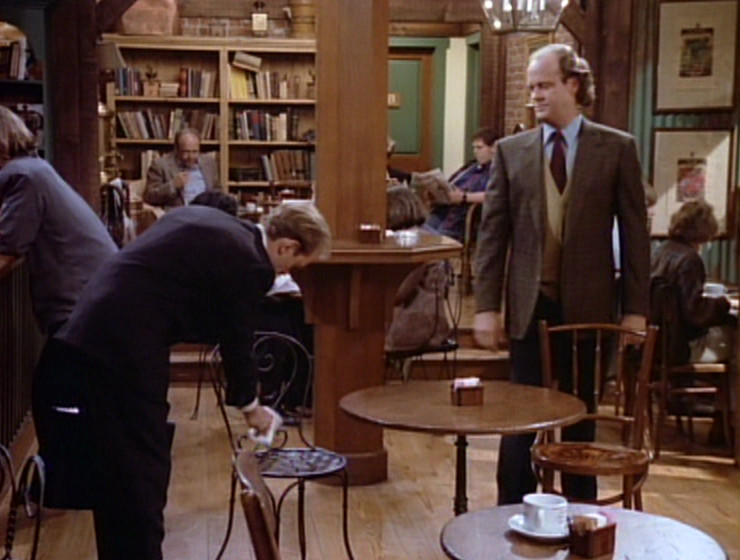 Not a cut, more a point of order. From the script:
FRASIER: Two cafe latte supremos.

NILES MOVES TO A CHAIR AND BEGINS TO DUST IT OFF WITH A HANDKERCHIEF. HE OFFERS IT TO FRAISER.

FRASIER: No, thank you.
There is an oft-repeated tale of how this one moment came to define Niles' personality… and more importantly for this article, who thought of it. From the Peter Casey and David Lee commentary:
"This little bit here with David wiping off the chair before he sat down was actually not in the script. That was a bit of [Director] Jim Burrows magic…"
So, the obvious question is: why is this moment in the script, if the commentary says it isn't?
I don't disbelieve the tale itself; I think Burrows really is responsible for the moment. But this was clearly a directing note added rather further back in the creative process than is often suggested. From the way the anecdote is sometimes told, you might assume it was something which happened on the day of recording, and that clearly isn't the case.
(4:59) Problem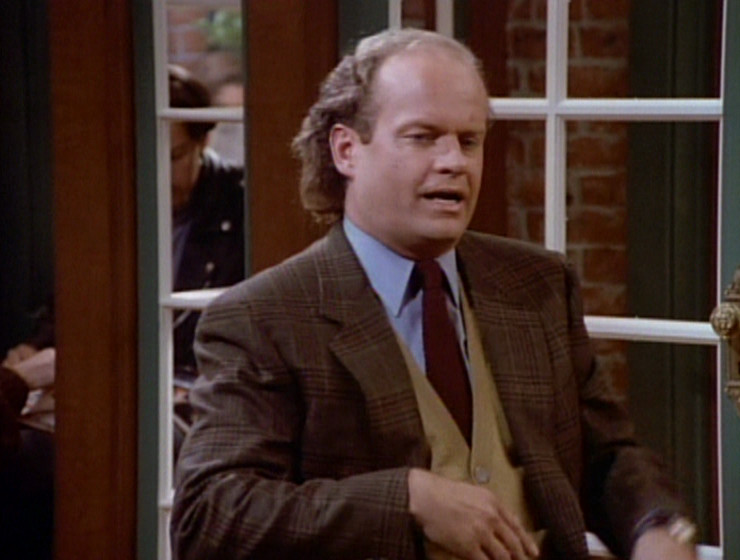 A short exchange between Frasier and Niles about Martin, cut for broadcast:
NILES: Well, you certainly can't take care of him. You're just getting your new life together.
FRASIER: Absolutely. Besides, we've never been sympatico. When I was a child I once rode in the car with him from Seattle to Spokane and the only thing he said to me was, "I think we've got a problem with your brother Frasier."
NILES: Yes, well, and, of course, I can't take care of him.
I can't help but feel there was a probably a funnier line to be had here anyway.
(5:09) Maris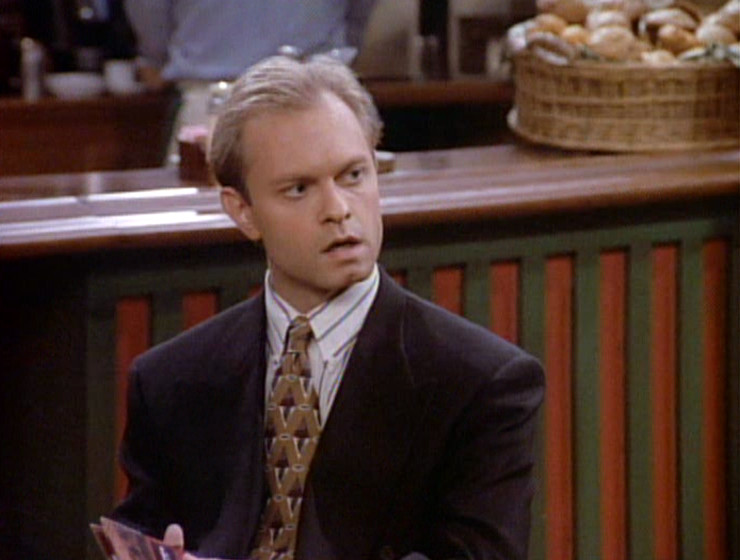 From the same scene, a single additional word in the broadcast version, compared to the script:
NILES: Dad doesn't get along with Maris.
FRASIER: Who does?
NILES: I thought you liked my Maris.
The addition of that word makes all the difference. From a generic line, to something so brilliantly specific to Niles and Maris' relationship. It sets a tone which will last for seasons.
I'd love to know who was responsible for it, but I guess we'll never know.
(5:24) Golden Acres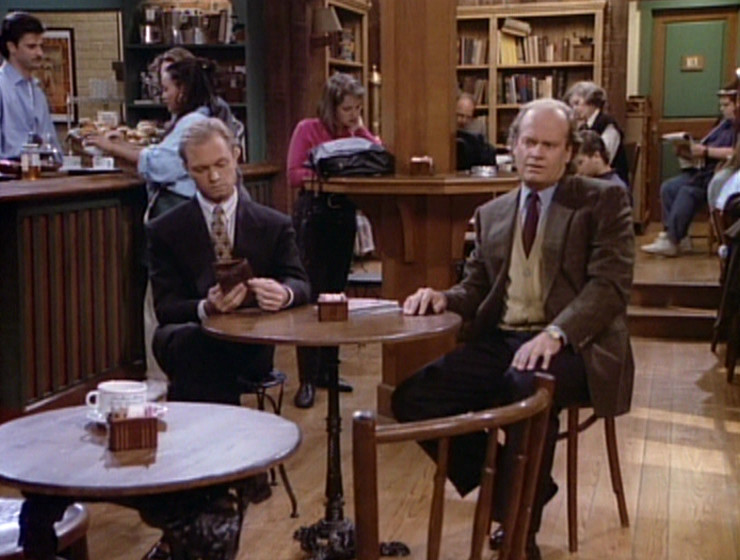 The script and the broadcast version have an entirely different joke when it comes to the care home they're considering for Martin. As broadcast:
NILES: Niles: Well then, we're agreed about what to do with Dad. "Golden Acres: We Care So You Don't Have To."
FRASIER: It says that?
NILES: Well, it might as well!
The script has perhaps a slightly more subtle joke:
NILES: "Golden Acres". People in golf carts on their way to oblivion.
It's perhaps worth noting that some sitcoms would really have a leaflet which says "We Care So You Don't Have To". Frasier goes out of its way to a) point out that this isn't actually the case, and b) paint it as a piece of deliberate manipulation by Niles.
(5:47) Cheesecake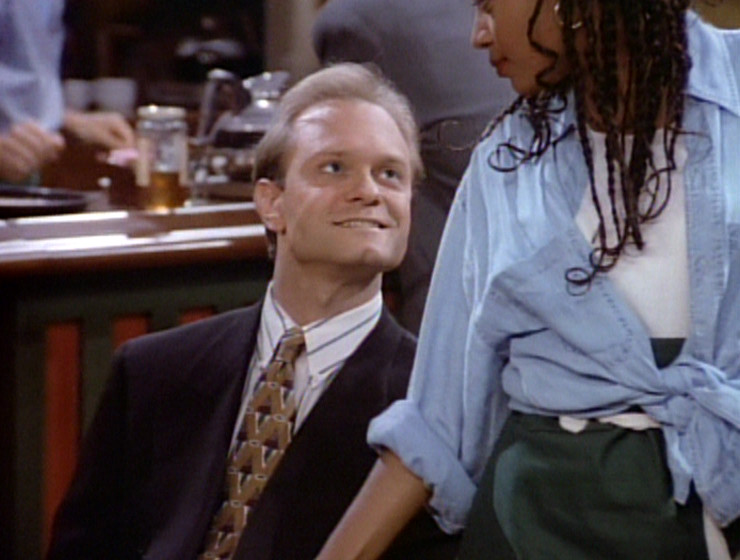 An extra piece of dialogue in the broadcast episode to wrap up the scene, which doesn't appear at all in the script:
NILES: Oh, you're a good son, Frasier.
FRASIER: Oh God, I am, aren't I?

HE HOLDS HIS HEAD IN DESPAIR. THE WAITRESS ARRIVES WITH THEIR COFFEES.

WAITRESS: Two cafe supremos. Anything to eat?
FRASIER: No. I seem to have lost my appetite.
NILES: (BRIGHTLY) I'll have a large piece of cheesecake!

FRASIER GLARES AT NILES.
What a bastard.
(6:50) The leap and the laugh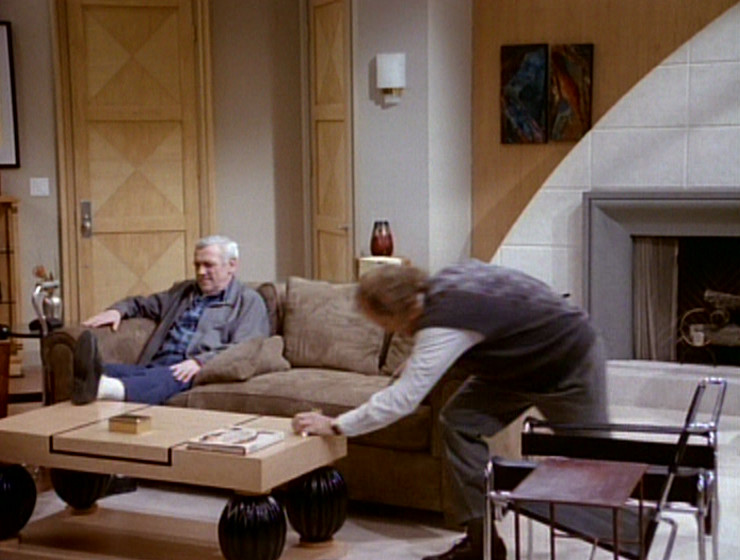 Two lovely bits of business in the broadcast episode which aren't in the script, when Martin first arrives at Frasier's apartment. Presumably these were worked out in rehearsals:
FRASIER: Well, here we are!

MARTIN KICKS AN ORNAMENT ACROSS THE TABLE. FRASIER LEAPS OVER AND CATCHES IT, THEN PRETENDS NOTHING HAS HAPPENED.

FRASIER: Now Dad, rest assured, the refrigerator is stocked with your favourite beer, Ballentines, and we've got plenty of hot links and coleslaw. I even rented a Charles Bronson movie for later.
MARTIN: You can cut the "Welcome To Camp Crane" speech. We all know why I'm here. Your old man can't be trusted to be alone for ten minutes without falling on his ass, and Frasier got stuck with me. Isn't that right?

FRASIER AND NILES LOOK AT EACH OTHER.

FRAISER/NILES: No, no, no.
FRASIER: I want you here. It'll give us an opportunity to get reacquainted.
MARTIN: That implies we were acquainted at one point.

NILES FORCES OUT A MOST PECULIAR LAUGH.

NILES: Listen, why don't I take Dad's things into his new "batchelor quarters" so you two scoundrels can plan some hijinks?
Niles' laugh here is one of my favourite things in the episode.
(9:00) Twit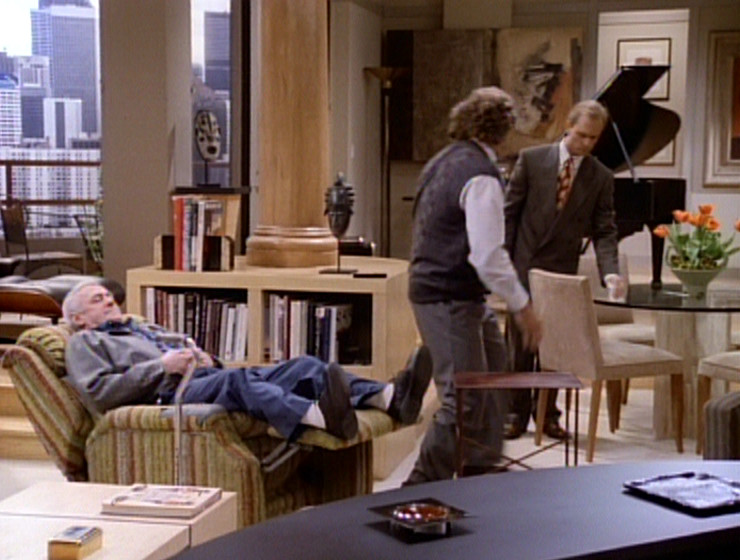 An additional confrontation between Fraiser and Niles from the same scene was cut from the final episode:
FRASIER: Niles, help me out here.
NILES: I like it.

FRAISER GRABS NILES BY THE SHIRT AND PULLS HIM ASIDE.

FRASIER: I see right through you. You're agreeing with the old man because you're afraid he might ask to live with you and Maris.
NILES: (RE: SHIRT) Please, Frasier, you're scrunching my Tommy Hilfiger.
FRASIER: Listen, you little twit…
MARTIN: You're going to have to run an extension cord over here so I can plug in the vibrating part.
"Please, Frasier, you're scrunching my Tommy Hilfiger" is the first cut moment in the script which I'm really sorry we lost.
(10:02) Fire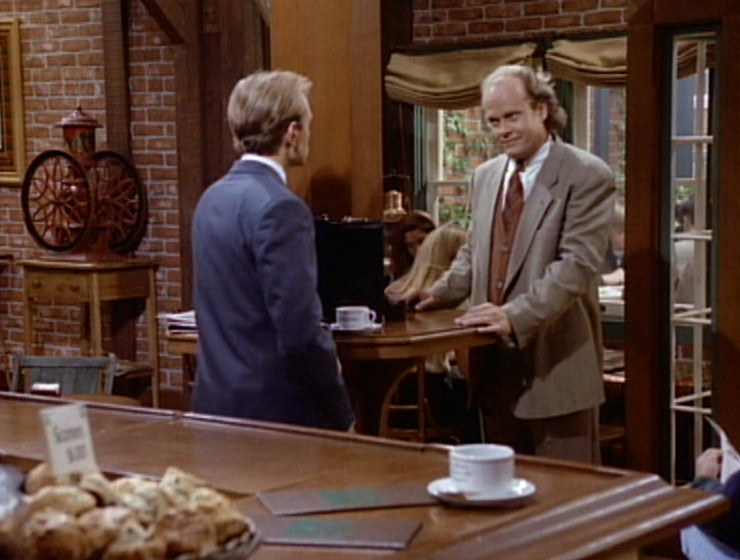 The opening joke after the commercial break was changed. First, the broadcast version:
FRASIER: Just as I was leaving, Dad decided to cook lunch by the glow of a small kitchen fire.
The script reads as follows:
FRASIER: Just as I was leaving, Dad started a small kitchen fire in the living room.
NILES: The living room?
FRASIER: Don't ask.
Probably a wise amendment; I can see what the original script is going for, but it's a tad confusing.
(10:43) Die Fledermaus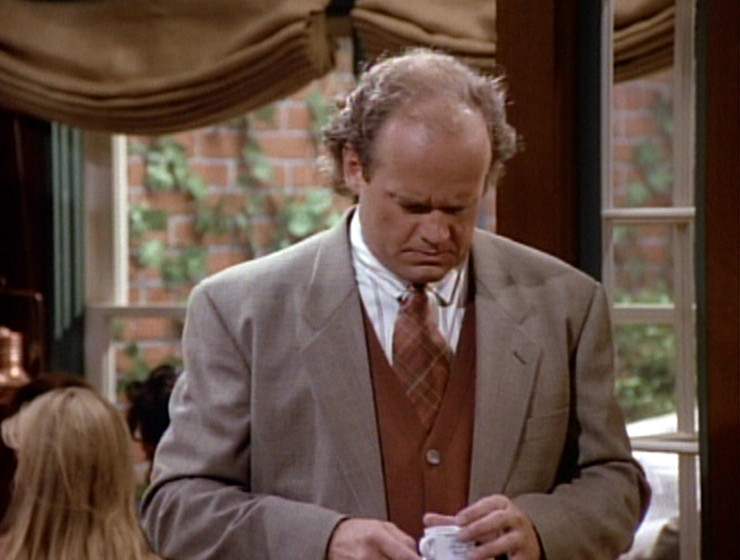 In the same scene, the subject of the the home care worker is brought up slightly differently. Firstly, the broadcast version:
NILES: That reminds me: weren't you going to the opera on Friday?

FRASIER TAKES TWO TICKETS OUT OF HIS POCKET.

FRASIER: Yes. Here.
NILES: Thank you.
FRASIER: Niles, you don't suppose there's a chance that you and Maris could…?
NILES: Funny you should mention that. Maris and I were just discussing this. We feel we should do more to share the responsibility.
FRASIER: You mean you'd take him in?
NILES: Dear God, no. But we would be willing to help you pay for a home care worker.
FRASIER: A what?
NILES: You know, someone who who cooks, and cleans, and helps Dad with his physical therapy.
In the script, it's much shorter:
NILES: That reminds me: weren't you going to the opera on Friday?

FRASIER TAKES TWO TICKETS OUT OF HIS POCKET.

FRASIER: Yes. Here.
NILES: Thank you. (LOOKING AT TICKETS) Die Fledermaus. (THEN) You know, have you considered hiring a home care worker? Someone who cooks, and cleans, who can help him with his therapy.
The broadcast version feels a lot more natural here.
(11:17) Handshake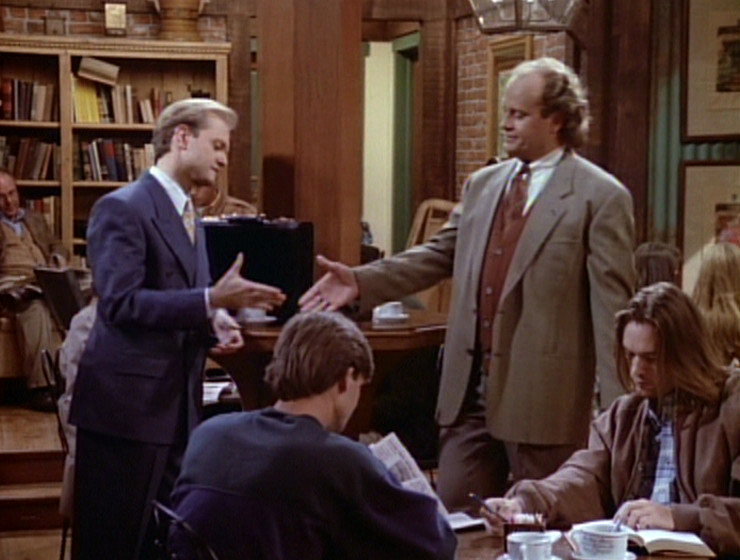 As broadcast, the scene ends with one of the best jokes of the episode:
FRASIER: Niles, I can't thank you enough! I, I, feel this overwhelming urge to hug you!
NILES: Remember what Mom always said: "A handshake is as good as a hug."
FRASIER: Wise woman.

THEY SHAKE HANDS.
This joke is nowhere to be seen in the script, however, which instead has a callback to Die Fledermaus:
FRASIER: I don't know how to thank you. I'm going to have my life again. I'm going to have my sanity again. I'm going to Die Fledermaus again.

FRASIER SNAPS THE TICKETS AWAY FROM NILES.
I think we can all agree that the version as broadcast is a vast improvement.
One thing which is worth noting: the commentary for the episode states that this entire scene was added during rehearsal week. That may explain why so many changes were made to the dialogue here: the scene simply wasn't as developed as the rest of the script.
(11:31) Applicant montage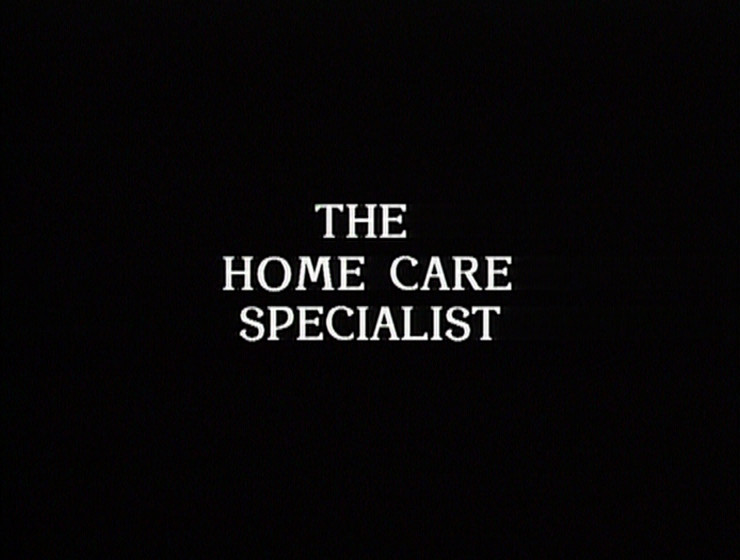 The only change made to the captions in this episode: in the final show it's "THE HOME CARE SPECIALIST", whereas in the script it's "THE HEALTH CARE WORKER". This is followed by a montage, which is cut entirely in the final episode:
MONTAGE

INT. HALLWAY OF FRASIER'S BUILDING – DAY – DAY/4
(Frasier, Extras)

A QUICK SEQUENCE OF FRASIER BIDDING FAREWELL TO A NUMBER OF APPLICANTS WITH PLEASANTRIES SUCH AS "THANK YOU VERY MUCH," "YOU'LL BE HEARING FROM US," "IT'S BEEN A PLEASURE."

RESET TO:

INT. HALLWAY – MOMENTS LATER – DAY/4
(Frasier, Extras)

ANOTHER APPLICANT. SHE APPEARS ROBUST, KIND, NEATLY DRESSED: THE EPITOME OF COMPETENCE.

FRASIER: I've never been more impressed with any human being in my entire life. It has truly been an honour to meet you.

FRASIER CLOSES THE DOOR.

FRASIER (O.S.): (BLOWING UP) Now what was wrong with that one?!!

THE WOMAN REACTS AND WALKS AWAY.
Yet again, this montage is entirely superfluous in retrospect. It's interesting how a lot of the more complex elements to mount – location shoots, or scenes with lots of extras – have ended up hitting the cutting room floor, in favour of simplicity.
(11:57) Stinking Idea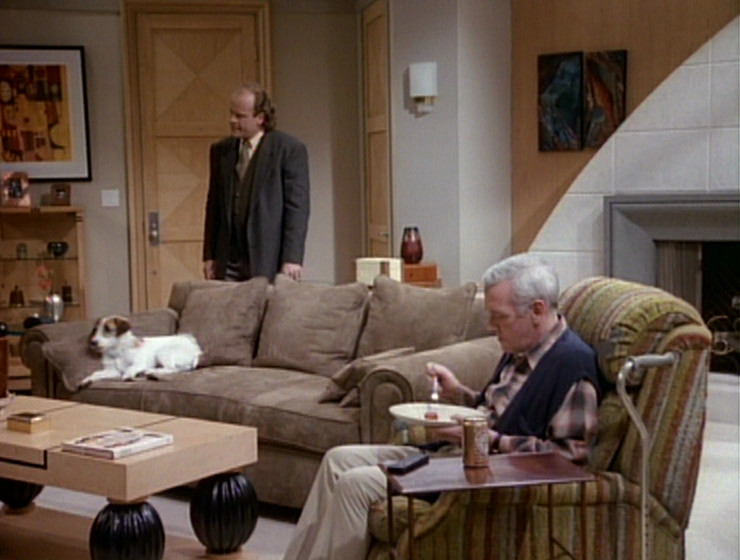 A short exchange between Frasier and Martin:
FRASIER: This is the last one. Can you at least try to keep an open mind?
MARTIN: I hate this whole stinking idea.
FRASIER: There, was that so difficult?

FRASIER OPENS THE DOOR TO REVEAL DAPHNE MOON. AN ENGLISH WORKING CLASS WOMAN IN HER MID TO LATE TWENTIES. AT THIS MOMENT, SHE IS REACHING INTO HER BLOUSE AND ADJUSTING HER BRA.
The episode doesn't really need more of Martin being grouchy: we get the point.
And yeah, I didn't need to quote the entire stage direction introducing Daphne, but "AT THIS MOMENT" makes me laugh.
(14:13) Their mother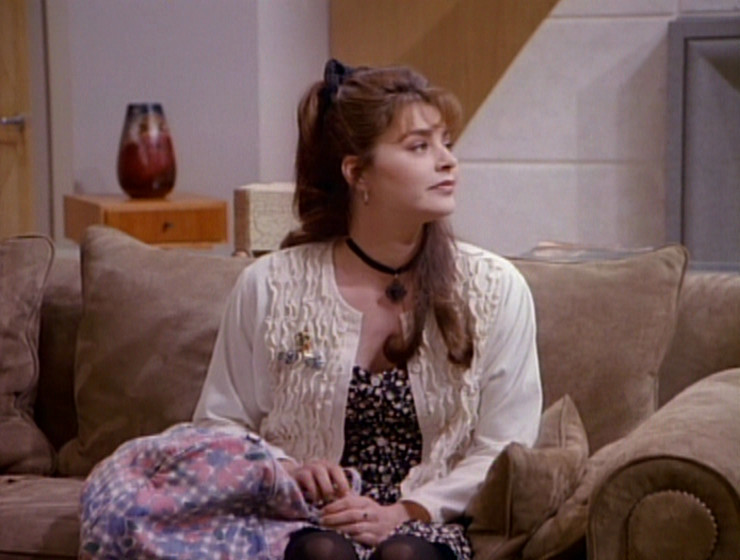 A short exchange about Frasier's mother, snipped from the final episode:
FRASIER: Well, I think we've learned everything we need to know about you. And a dash extra. Thank you very much. We'll be in touch.
DAPHNE: (TO MARTIN) You must be very proud of your son the psychiatrist.
MARTIN: Sons. Two sons. Two shrinks. They took after their mother, rest her soul. She was one too. It was quite a household. I couldn't scratch myself without being analyzed.
DAPHNE: We Brits don't believe much in psychiatry. I mean, isn't that what friends are for?
FRASIER: That's very quaint.
DAPHNE: (TO EDDIE) You're a dog, aren't you?
Maybe it would have been cut anyway, but it's notable that Frasier's mother gets a far funnier and more revealing mention in the tag to the previous scene, which wasn't in the original script.
(15:29) African erotic art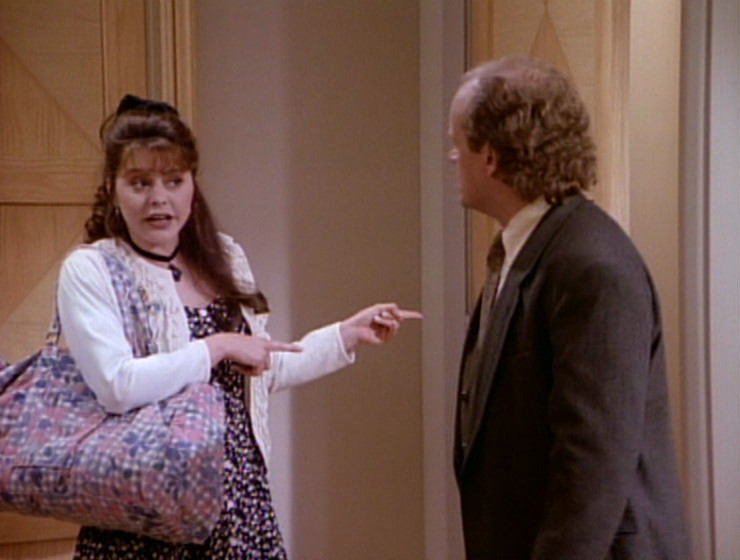 From the same scene, a short moment trimmed from the final episode:
DAPHNE: I'll just pop back in here and enjoy some more of your African erotic art.

DAPHNE HEADS FOR THE BATHROOM.

MARTIN: Check out the one over the towel rack. You gotta be young to try that.
FRASIER: Perhaps it's best if you leave.
Dirty bastard.
(16:09) Divorce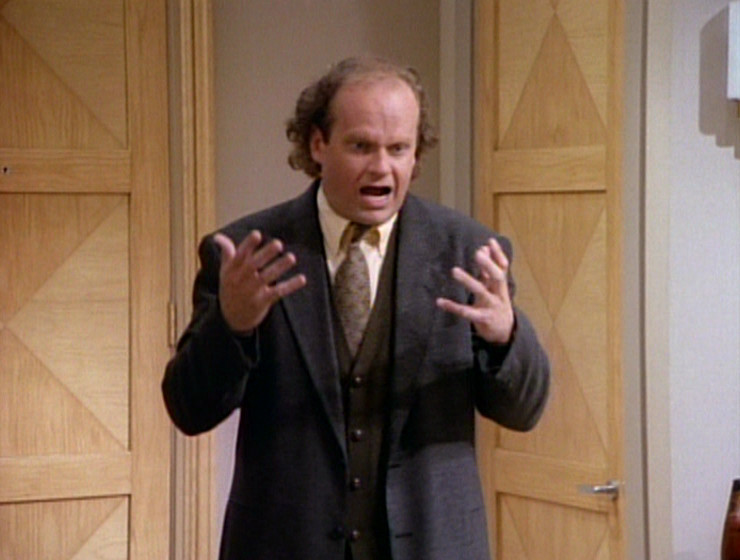 A fascinating change of emphasis about Frasier's divorce. Firstly, the broadcast episode:
FRASIER: I don't want to adjust. I've done enough adjusting. I'm in a new city, I've got a new job. I'm separated from my little boy, which in itself is enough to drive me nuts. And now my father and his dog are living with me.
The script:
FRASIER: I don't want to adjust. I've done enough adjusting. I'm in a new city, I have a new job. I'm freshly divorced, and now my father and his dog are living with me.
For an explanation, we have to go back to the Casey & Lee commentary:
"There was a constant worry, voiced many times by Jimmy Burrows during the week, of… this guy has got a son, who's living back in Boston, and people aren't going to like him that he never even mentions him. So that prompted the mention of the soccer team and the coffee house, and the mention right in this scene about him missing his son so much."
I'm totally with Burrows on this one.
(21:50) Credits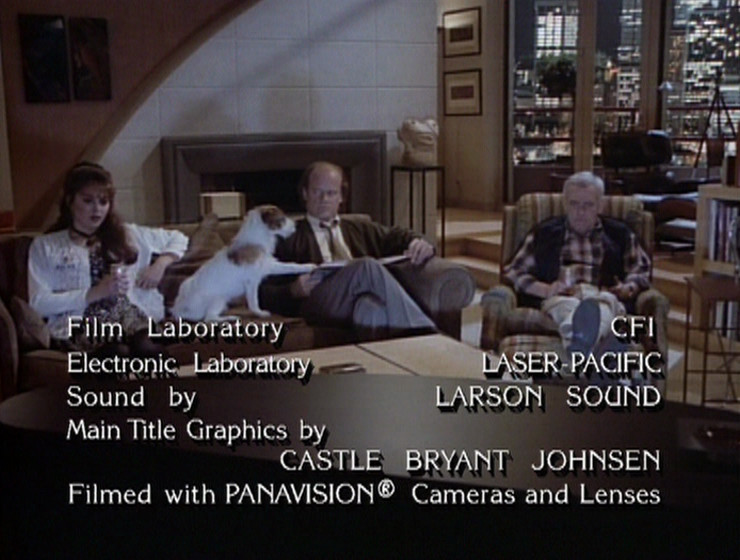 And finally, a change to the end of the show. In the script, most of the final conversation between Frasier and caller Claire was supposed to happen as a voiceover over a shot of "Frasier and his new family watching TV". This was changed for the broadcast episode; the entire Claire section was kept in-vision, and the shot of Frasier with his new family is used for the end credits instead. Indeed, the action during the end credits is identical to what's scripted, even down to the line "EDDIE PUTS ONE PAW ON FRASIER'S LEG".
Why this was changed is purely speculation; after all, it's not like any time was saved, as they'd still need to do something for the end credits. Perhaps it was decided they'd rather keep Kelsey Grammer's superb performance in-vision. Regardless, it's interesting that the very first end credit sequence for Frasier ended up being something which was in the script in some form; most of the others weren't scripted, but thought up by the writers while the crew were shooting pickups.
Conclusion
So, what have we learnt about making sitcom from the above? I believe it's an object lesson in how to cut material from your script and retain every single piece of important storytelling, all the best character moments, and all the funniest jokes. Which is perhaps not surprising; when you're brilliant enough to have made one of the best sitcom pilots of all time, you're also going to be damn good at cutting it down to time in the best way possible.
Having said that, despite the oft-told story that it was six minutes of material that was cut, it doesn't really feel like six minutes of material has been trimmed here. Is there a bit of exaggeration going on? On the other hand, the material gets such a brilliant reaction from the studio audience: perhaps there was just more of this reaction included in the first pass at the edit, explaining the length in a way that the script simply can't do.
Finally, and I cannot stress this enough: if you're worried about your sitcom not being funny, just have David Hyde Pierce walk in and do a stupid laugh.
---
If you want to see every little difference, I suggest you watch the final episode and read through the script at the same time. Note how Kelsey Grammer often slightly rewords his lines. ↩