"We are open for business."

— David Hencke, Exaro 'Head of News', 18th July 2016

"We are absolutely devastated. We were going ahead with plans and had only just put up a story the previous day, with a lot more in the pipeline, and suddenly we are told it's closed just like that."

— David Hencke, Exaro 'Head of News', 21st July 2016
This article is not the story of Exaro – the investigative news site set up in 2011 to, in their own words, "hold power to account". That story heavily involves Exaro's investigations of paedophilia and child abuse, and that's a topic on which I have precisely no insight on whatsoever – either the investigations themselves, Exaro's conduct during them, or the official police investigations. There are many people who are far more qualified to discuss those matters. I mean literally qualified, with actual qualifications. There is nothing I could ever add to those discussions.
Still, what I want to talk about is something which does impact on the aftermath of those investigations. Whether you think Exaro's conduct was exemplary, reprehensible, or some complex line between the two, the fact now remains: aside from the usual rescue from the Wayback Machine, there is no primary evidence of those investigations left online. It has all disappeared.
Let's back up a bit. Exaro was shut down on the 21st July this year. The closure was widely reported in the press, but curiously was never actually mentioned on Exaro's website itself. The site's front page resolutely lead on a story about the regulation of private tutors, and did so for months. There was no mention anywhere on the site of the organisation closing. You would think that this piece of simple disclosure would be the first thing on the agenda once the site closed, as a courtesy to its readers. But no, they did nothing. Even worse, they were still soliciting investigative material, with no warning that anything sent would be falling into a black hole.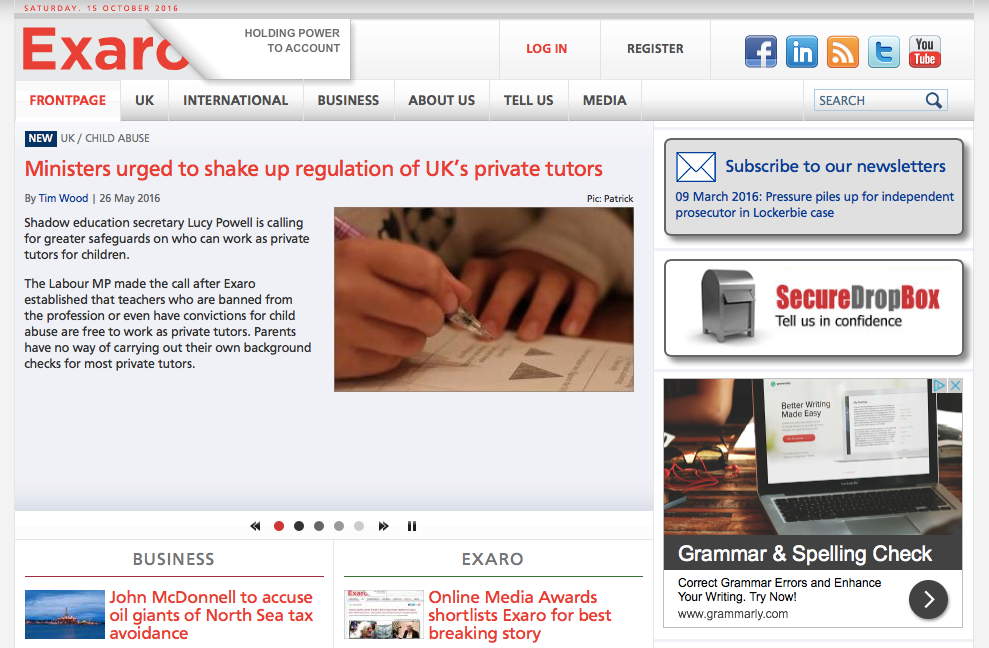 All of which I find odd. I find it absolutely, fundamentally strange that a news organisation could close, and not even find five minutes to post a message informing its readers. Not only is it just rude, but I think full disclosure to your readers is an absolute requisite for a news organisation, especially one which frankly painted itself as better than others.1 To appear to be a going concern and ready to investigate material sent to them when they were actually closed for good was nothing short of ridiculous.
Even weirder, shortly after this their Twitter feed disappeared, to be replaced with someone called Linda Lavallee talking rubbish. Either the account was sold, hacked, or all tweets were deleted with no warning; no explanation reflects especially well on the organisation.
And then, last week, Exaro's website went offline. Five years of investigations, just gone, like that. An archive of any sort is not to be taken offline lightly; five years of Big Brother reviews would be something I'd be reluctant to yank offline. But five years of serious investigative journalism?
In other words: Exaro didn't inform its readers about its closure, screwed over its social media presence, and then deleted its archives. This is the exact opposite of how a news organisation should deal with closing its doors. If ten years of snack reviews can remain online nearly five years after closing – along with a goodbye message – I'm sure Exaro could have at least dealt with things slightly better than they have, debts or no debts.
Unlike most pieces on Dirty Feed, I really do feel the need to address the "Does this really matter?" argument. On most topics, I'm simply content to go off on a weird direction, and assume that some people will come with me, and others will click away. That's fine. But on something which touches on a subject like this – both the topic of child abuse itself, and the legitimacy of Exaro's investigations – of course it's worth asking: how important is this?
Answer: of course, this isn't as important as either of those things. But I would argue that how a news organisation closes is still an important topic, especially in terms of informing its readers and dealing with its archive. And the topic is especially important when dealing with material of this nature. There are real issues to do with the preservation of material… but also, one of simple respect to the subject matter. It's difficult to interpret the action as the owners saying anything other than "Actually, hey, all this stuff we did wasn't important after all". Which isn't what you'd expect the people in charge of it to think.
Whatever your opinion on the work Exaro did, it became part of the public discourse on an important story. (In fact, over its five years online, many important stories.) The site should have done more to inform its readers of its closure, and its archive should have been dealt with better than just falling off the net after three months with no warning.
It was an absolutely terrible way to close a news organisation.
---