One of my most vivid television memories as a child was the title sequence to Blockbusters.1 Every afternoon I'd lie in front of the fire, and that gorgeous neon cityscape would transport me to another world.
I often wondered how it was made… and the answer came when I ended up in hospital, and I managed to borrow a copy of the 1989 Blockbusters Annual. Contained within was a four page feature on how the titles were made. I devoured it… and then had to give the annual back at the end of my stay when I had the temerity to get better. I never managed to trace down a copy over the years, and in the end those pages became a distant memory.
Nowadays, I'm an adult, and eBay is a thing. And this morning, I finally saw that feature I hadn't seen for over twenty years. If anything, it's even more detailed than I remember, with many absolutely gorgeous behind-the-scenes photos… and well worth sharing with you lot.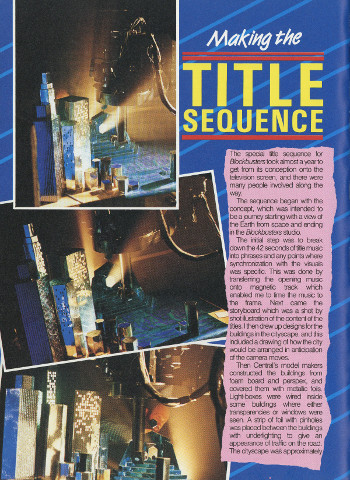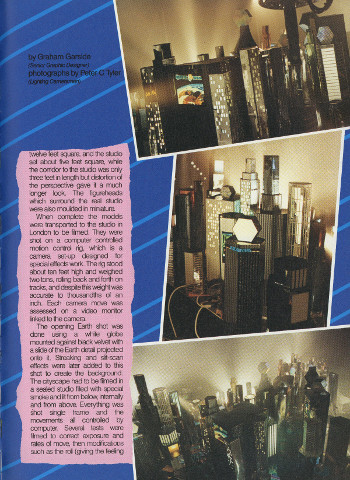 It is perhaps tempting to use the above as a stick to beat modern-day television. "Cuh, you can't imagine an afternoon quiz show attempting anything like the above these days, could you?" And that's absolutely true… except it's worth remembering that the above was unusual for the time, too. Few afternoon quiz shows decided to get out the old motion control rig and shoot one of the best title sequences in the history of television.
Still, we're often told that we're in a golden age of TV. And seemingly endless afternoon quizzes are made – Pointless is nearly at 1000 episodes, with over 200 ordered this year alone. True, a title sequence like the above would be expensive – but spread over the cost of so many episodes, the cost surely wouldn't be prohibitive. Nor would it need to be as long either, if you're worried about such things.
Wouldn't it be lovely if a current quiz show decided to throw caution to the winds, and try making a truly ambitious title sequence again? One that gives a show a real sense of, for want of a better word, showmanship?
---
Technically, the second title sequence – the first is nice enough, but nowhere near as good as the famous one. ↩
4 Comments