Back in 2013, Megan Fox discovered Twitter:
I'm incredibly late to the party but I'm here nonetheless, so what now?

— Megan Fox (@meganfox) January 3, 2013
Sadly, it didn't last. Her last ever tweet:
5 days on Twitter and I have yet to discern it's purpose. #WhatIsThePoint ???

— Megan Fox (@meganfox) January 9, 2013
Never has the question "What is the point?" been so easy to answer. If you check her profile page, how many people was Megan following? Answer: zero. Nought. 0. Precisely none. If you don't actually follow anybody Twitter, no wonder you got fuck-all out of it. Following other people and reading what they have to say is pretty much the entire point of the thing.
Still, don't worry! On her Twitter profile, Megan has helpfully included a link to her official Facebook page. I'm sure we'll get something fun out of that! What's her latest post, here in 2016?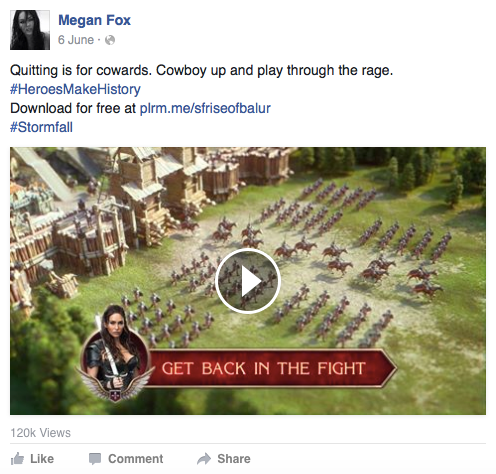 Great. Thanks for that. Glad you figured out what the point of social media was.
OK, enough sneering. Admittedly, "Hollywood actor doesn't get how Twitter works, and then gets her people to post a load of self-promotional guff on Facebook" is literally THE EXACT OPPOSITE of news. There's no insight to be had there, even if I wasn't dragging out tweets from 2013.
Still, the thing that really gets me is that from the very moment I first encountered the net, I always put a little piece of myself on there. And plenty of the fun was interacting with others. That's not something I had to learn, or something which I think is difficult: just came naturally. Of course, famous actors can't do it quite in the same way, but the absolute lack of anything human on those pages just makes my head hurt.
And crucially: I find it odd that an actor wouldn't feel the same. Because being an actor is all about understanding people. And having an online presence which is nothing to do with people just feels incredibly odd. Fair enough if you have a job that allows you to be an automaton. But as an actor, I expect… more.
Megan Fox. I don't understand you. I'm sure you're gutted about that. Now, do you want to hear about Quatermass edits?