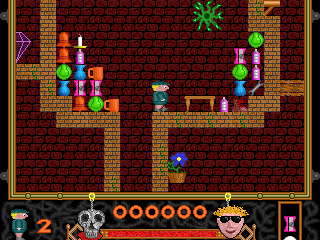 Years ago, I created – along with Jeffrey Lee – a website about two of my favourite RISC OS games, Asylum and Oddball. (I did the design and some of the writing for the site, and Jeffrey did all the ACTUAL WORK involving the software.) Both games were loads of fun – but to get them running these days, you either have to have a RISC OS machine, get a RISC OS emulator up and running, or mess around with an SDL version. One thing that doesn't need any setting up however, is listening to the fantastic music from Asylum.
From the relatively calm music for the easy levels, through to my favourite track for the medium levels, and this absolute insanity for the hardest levels – and that's only three of the eight pieces – any lover of videogame music should give it a listen. They aren't very well known, but I think the tracks are absolutely gorgeous. Aching for a remix of some kind.
So: do you have any favourite lesser-known music from games – from obscure tracks from famous releases, right through to something which once sold four copies in 1982? I'd love to put together a mix of them, similar to my BBC Micro TV themes mix from last year. Add 'em below, or send a tweet across. Any platform, any genre, any year. GO.