My first reaction when I heard ITV1 was going to change back to ITV in early 2013 was the same as most presentation fans of a certain era – a collective yawn. Ya boo sucks, who cares what boring old ITV is doing these days?
That is, until a couple of things caught my eye. Firstly, this little tidbit from the Broadcast article linked to above:
"The changes are being led by ITV's group marketing and research director Rufus Radcliffe, who joined the broadcaster from Channel 4 in April last year. Radcliffe's in-house strategy at C4 saw him relaunch E4 and More 4, as well as introducing C4's floating logo idents."
C4's floating logo idents? AKA, the best current terrestial idents by a mile? INTERESTING. (Mind you, Channel 4 may be unique in never having a bad identity. Yes, even the circles era. Shut up.)
Still, plenty of people have moved to another company, and failed to have any impact whatsoever – the channel's existing culture overwhelmed them. If ITV is not in the mood to make real change, it won't. Then I saw this piece in Creative Review, about the new identity for drama on ITV, and the newly-energised ITV Creative: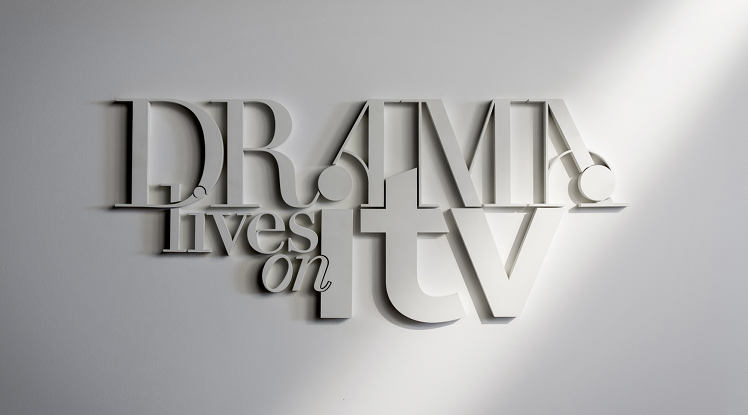 Two things strike me. Firstly, as the Creative Review article reveals, how impressive it is that they actually built and shot something to make that identity, rather than taking the easy route and doing it by pixel-pushing. (When you see it moving on-screen, it shows.) And secondly, how old-school ITV the slogan Drama lives on ITV sounds – very early 90s, in the best possible way.
ITV will never again become the ITV I want it to be – your regional station. But it could – coupled with the right programming – become something I'd be interested in watching again. A big national network done right. Something that's exciting to watch. Something put together by people proud of what they are doing. A channel you might actually feel a bit of loyalty towards, rather than just dipping into the odd programme here and there with no commitment whatsoever.
A channel's on-screen identity is about more than whether something is pretty or not. Often, it signifies what an entire station stands for. I wait with genuine interest to see what ITV does in 2013 – for the first time in a great many number of years.