As I slag off Challenge when they do something wrong, it seems only fair to congratulate them when they do something right. With the sad death of Bob Holness yesterday, Challenge made a point of not only updating their EPG, but also recording some new links; genuinely impressive for a channel which doesn't have live continuity. Take a look below – and make a note of listening to Bob's intro for the female contestant, where he makes a hilariously inappropriate joke, but gets away with it because he was brilliant: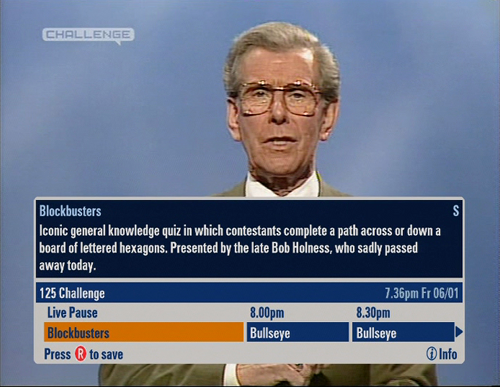 In a world full of user-created playlists, it's a handy reminder that television works when it's reactive – and when it shows signs of actual people in charge. Anyone can grab entertainment from the shelf; it's television's job to contextualise it. Yesterday Challenge managed to become – in an admittedly small way – part of celebrating Bob's life, as opposed to just playing out the scheduled episode and the letting the channel feel odd and distant.
Television shouldn't be just another rigid playlist.