Now That's What I Call Alan Partridge
UPDATE (02/04/17): The link below is now dead, and this album now resides here.
Found lying at the bottom of a drawer at the now-defunct Peartree Productions…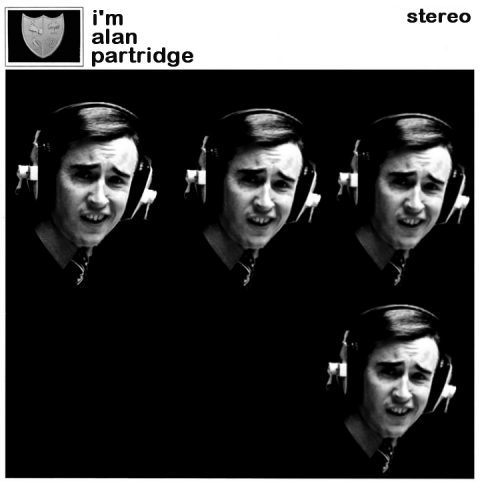 I'm Alan Partridge Soundtrack (142MB, 256kbps MP3)
You probably already know whether this is something you want to hear or not, although it's hopefully a bit more interesting than a straight list of songs from the show. I think it's nice to listen to without knowing the track listing first, so if you're interested, try to resist clicking on the link below until you've heard it! (Note however that the MP3 I'm making available here is one long track rather than split.) Have fun…
Track listing: [spoiler]
Joni Mitchell – Big Yellow Taxi
Yazoo – Don't Go
Go West – Call Me
Alan's Trip / Shirley Bassey – Goldfinger
Wings – Jet
Gary Numan – Music for Chameleons
Alan's Love Bud / Hot Chocolate – It Started With A Kiss
Carpenters – Close To You
Steeleye Span – Gaudete
Hairy Mary / Blue Mink – Melting Pot
Peter Baxendale-Thomas
T'Pau – China In Your Hand
Funny Stories / Kate Bush – Wuthering Heights
Stop Getting Bond Wrong / Carly Simon – Nobody Does It Better
Brian and Michael – Matchstalk Men
Legoland / The Saint Orchestra – Theme From "Return Of The Saint"
Deep Phunky Clav
Orchestral Manoeuvres in the Dark – Joan of Arc
Architecture or Morality / The King Singers – Windmills of Your Mind
Fuck Off / Black Beauty
[/spoiler]
With thanks to Seb Patrick for the album cover, and Jonathan Capps, Andrew Ellard, Tanya Jones, Seb Patrick, popdeath, Daniel Stephenson, and Ian Symes for help and feedback.
■ Posted 10th September 2010 @ 2pm in Best Of, Comedy, Television. 22 Comments.