"The night is black,
And the stars are bright,
And the sea is dark and deep…
But someone I know is safe and snug,
And they're drifting off to sleep.

Round and round, a little boat, no bigger than your hand,
Out on the ocean, far away from land.
Take the little sail down, light the little light,
This is the way to the garden in the night."
Why do I love In The Night Garden so much?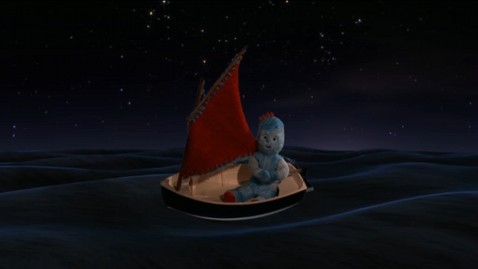 I could go on about how beautiful the music and opening titles are; a descent into a dream landscape that's truly magical.
I could go on about wonderful Derek Jacobi is as the narrator – the grandfather I never had – and how he talks to kids rather than down to them.
I could go on about how brilliantly the programme combines ideas and production techniques to become a microcosm of children's television through the past forty years. A bit of Teletubbies here, a bit of Trumpton, there, a hint of The Magic Roundabout here, something brand new over there. Combining live action, stop-motion, CGI, and good old-fashioned drawings into a wonderful self-contained world.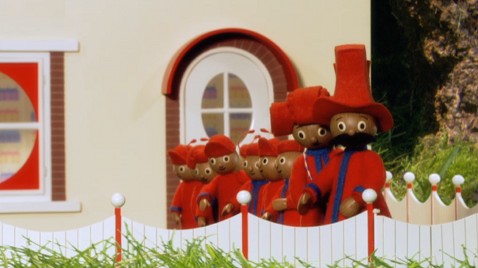 Or I could just go on about how cute and warm and fuzzy and lovely it all is. Or how I identify with Makka Pakka. Or how beautifully the characters come across. Or how the series is really funny at times. And it's all those things and more.
But the real reason I love the show so much is: It makes me sleepy.
The programme is all about sending kids to sleep, of course. See this Telegraph article, quoting from producer Anne Wood:
'Children are growing up in anxious times,' says Wood, who is 69. 'There is so much anxiety around looking after children and so on, and especially around bedtime – a time when we need children to be happy and relaxed.' She points to research showing that bedtime routines are in decline and the sharing of stories between adult and child seems to be getting squeezed out. 'I wondered if there was anything we could make to alleviate that.'
And of course, it's spot on. Rather than geeing your child up at bedtime, you need something to send them to sleep. No wonder the programme is so popular. Children need to relax. And parents need to relax.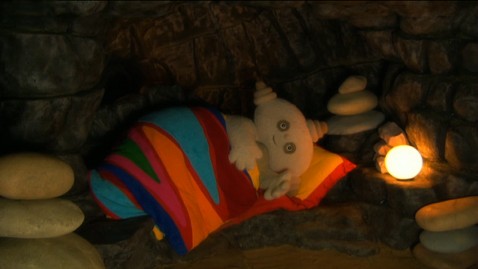 But after a hard day's work full of stress… I need to relax, too. Everyone's lives can be full of stress. And watching In The Night Garden relaxes me, and makes all my troubles fade away. By the end of the show, instead of my head filled with nonsense about the day's problems, and what I'm going to do tomorrow, it's filled with one overriding need: to go to sleep.
"Wait a minute. Somebody's not in bed.
Who's not in bed?
Iggle-Piggle's not in bed.

Don't worry Iggle-Piggle. It's time to go."
Adults need this show just as much as kids.