MIKE: This calls for a celebration. Vyv, throw another record player on the fire.
VYVYAN: Oh, certainly, Michael.
RICK: You bastard! That's my record player!
MIKE: [to Vyv] You said it was your record player.
VYVYAN: No, I didn't, Mike. I said "Let's throw Rick's record player on the fire, that'll be good for a laugh."
MIKE: Oh, yeah, that's right. Yeah, it is yours, Rick.
Growing up, Cash (15/5/84) always felt odd to me. Different to other episodes of The Young Ones, somehow. I could never put my finger on quite what it was. What made it look different? In the end, I just put it down to the bare set (Vyvyan and Mike being bang in the middle of burning everything in the house), and went about my daily life.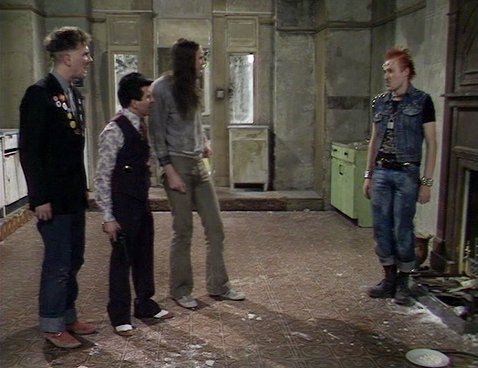 It was only recently I realised what even Wikipedia has figured out; for this episode and this episode only, the whole set is rotated 90 degrees from normal – to incorporate a brand new wall including a fireplace, an integral part of the plot: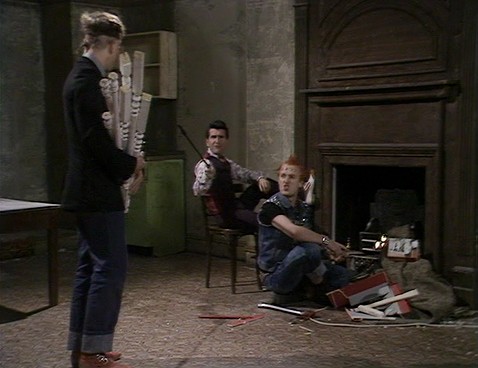 The wall that's been removed for the audience to see through is the living room window; we get a single shot of it later in the episode as the lorry goes through the wall as a cutaway: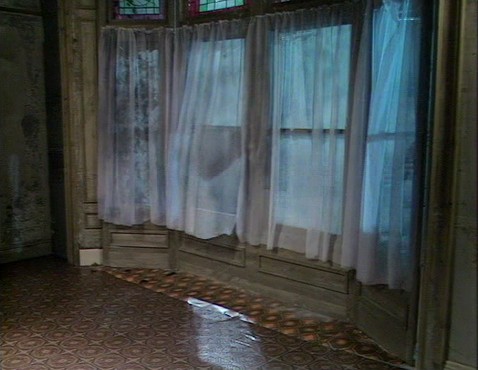 One good way to get a grip on how the set's changed is looking at the fridge – here it is in Cash: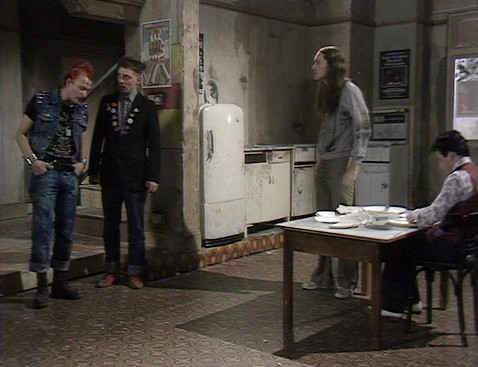 And here's the orientation in Bambi, which also shows the living room window: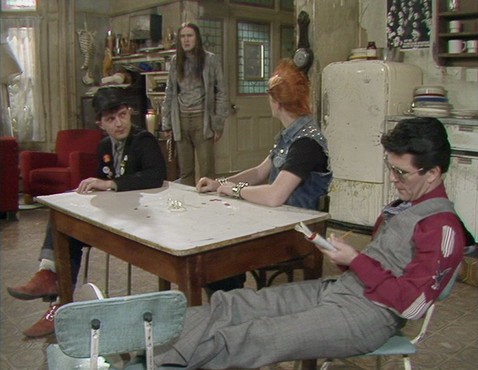 I often find myself wondering what the fourth wall of audience sitcom sets would look like if they existed. Trust The Young Ones to actually show us. Mind you, it's hardly the only show to occasionally show us part of the fourth wall – I'm thinking especially of a great shot in Drop The Dead Donkey with Viking helmets – but it's the only sitcom episode I can think of which physically turned the entire set around, and shot it from a different angle from the entire rest of the series.
Unless, of course – you know differently…