I have no idea, but this must come close.
Recently I decided to deactivate my Facebook account. Not because of worries over privacy – although maybe I should be more worried about that – but due to the weird joint problem of using it too much, and not enough. Too much, as in spending every waking hour when I should be working playing Scrabble… and not enough, in that I did precisely nothing else with it.
So, I decide to deactivate my account. (You should, of course, be able to directly delete it without waiting, but that's a rant for another day – and I probably would have chosen a simple deactivation this time round anyway.) And what greets me?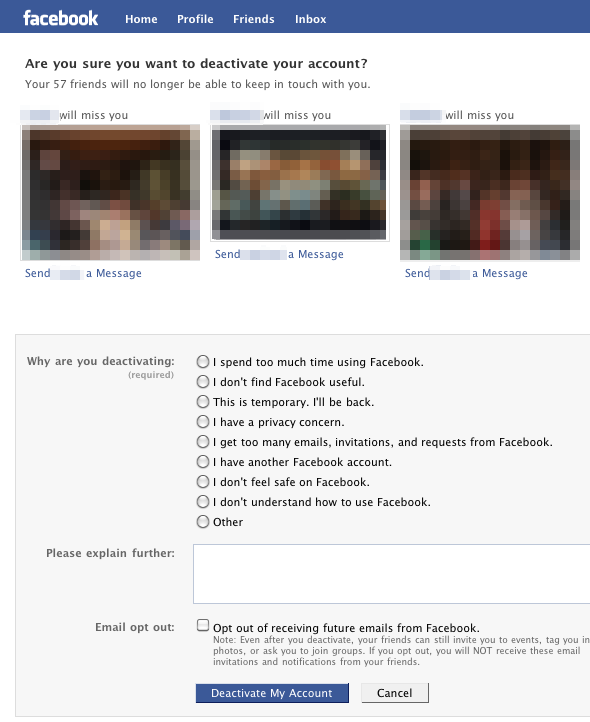 The phrase "FUCK. OFF." springs to mind.
"x will miss you". "x will miss you". "x will miss you". Emotional blackmail of the worst kind. People decide to leave Facebook for all kinds of reasons; with the site pathetically begging you to stay – and putting words into your friends mouths – it's as if the site doesn't want you to make your own decision about the service, and resorts to cheap tricks. Vile.
And that's to say nothing about the fact that you HAVE to give a reason you're leaving. Why should it be mandatory? It's your choice to leave the site – why the hell should you have to tell them a reason? I will, of course, be typing obscenities in that box. It's only right and proper. Stupid thing is, I would have given them a sensible reason if it'd been voluntary.
You know what? Before, I wasn't that worried about Facebook. It wasn't for me – the twin problems of being a stupid timesink for games, and not really liking anything else about it – but that's fine. I may even have reactivated my account at some point. But my opinion of the site dropped through the floor after this rigmarole.
Delete my account? It can't come soon enough.